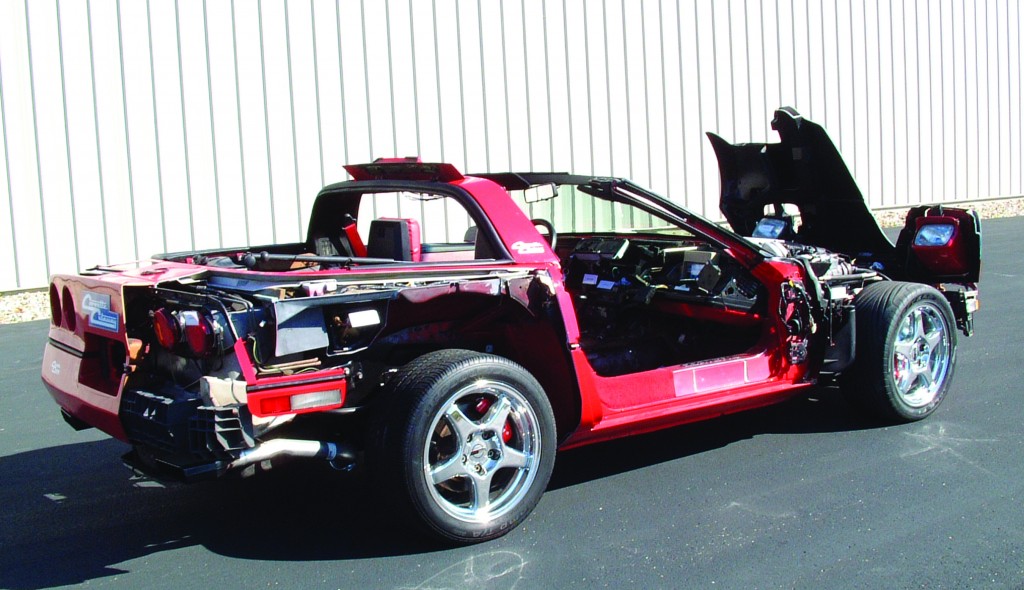 When the fourth generation Corvette was introduced in 1984, many innovative build techniques were implemented.  Early Corvette amenities were becoming standard equipment while new options filled every available inch of dash space.  The 1984-1989 C4 dash had more modules and controllers to integrate behind an already tight dash area.  1990-1996 Corvettes added more modules along with airbags to the already restricted dash space.
After years of working with C4's, it was apparent that any one without good information would have a difficult time diagnosing electrical issues.  Repairing would also be difficult because many internal dash components can not be seen.  For example, anyone that has had the daunting task of replacing a heater core in a C4 knows how tough the dashboard is to work on.
C4 body and chassis construction was another area that was new to the automotive industry.  Stranded fiberglass body panels were no longer used, as Sheet Molded Composite (SMC) panels were implemented.  The SMC panels were similar in construction with the exception of two epoxy panels sandwiched as a mat material.  In this application, the epoxy panels and mat are pressed under high pressure in a mold to form body panels.  Chassis and body are then integrated as uni-body construction, requiring different repair techniques for both body and chassis.  We often wondered if anyone at GM had to replace a taillight bulb or service an antenna.
Under the hood, the C4 was quite different from the outgoing C3, with electric cooling fans, a serpentine belt accessory drive system and many plastic components.  Electronic engine control was implemented, and it grew more complex as each year of the C4 was introduced.  Engine sensors and control modules are difficult to find as they are tucked away under the hood.
For the last few years, we had been discussing the possibilities of using a donor C4 for seminar and display purposes.  We knew that many owners had plenty of questions on how the C4's were put together.  Why not dissect one for science?  Wrecked, salvaged and abandoned project C4s were for sale at almost every Corvette swap meet.  Corvette Central's 1988 Cutaway was found at Corvettes at Carlisle a few years ago. The '88 was in rough shape, and had a sign in the windshield stating "For Sale.  Complete car or pick your part".
As the weekend wore on, we noticed a few parts were taken off the '88 with no one biting on the whole car purchase.  We decided to investigate.
This could be the Cutaway donor car we were looking for, as it was too rough and costly to bring back for the typical Corvette owner/restorer.  When we tried to start the engine, it ran momentarily with a definite engine miss.  Most likely a VATS (Vehicle Anti-Theft System) error was causing the no-start problem. Under the hood was a mess: coolant full of sludge, oil leaks and plenty of grime. The interior was rough as well: carpet, seats and dash looked like many drinks had been spilled on them over the years. The digital dash panel must have worked because it was absent!
This was the one for us from all outward appearances.  All we had to do was wait until the end of the day to see if we could make a deal.  We certainly had to consider that this car would be used as a teaching tool.  It wouldn't make sense to invest big money in a Corvette that would be cut up.  The '88's owner understood that this was a rough Corvette at best and would most likely never be restored because of its condition.  This made discussing a reasonable price for our new-found Cutaway project car easier. We made the deal, bypassed the VATS and loaded the '88 into the trailer for the trip to the shop. When we unloaded the '88, we found our next problem: the transmission had no reverse. Once in the shop, we put the car on the lift and discovered the floor had been crunched numerous times.  The passenger side floor had a major crack alongside the rocker panel with weeds and rocks stuffed into it.   At this point, we felt confident in our decision that this was the one to cut up.
We discussed how we would attack the project until we finally decided to move ahead.  Taking a saw to a tired '88 is not an easy task if you're Corvette enthusiasts like us.  We put our ideas on paper and the guys at Corvette Central did the same.  Once we were on the same page the crayon came out and lines drawn. As we removed the pieces with our circular saw and mini air saw the project came to life.  After many years of working with C4's and struggling with their difficult to access components, we found using the saw was quite enjoyable.  We exposed as much as possible while still being able to operate the car on its own power.
Two years later, the Cutaway Corvette returned to Corvettes at Carlisle with its completely new "exposed" look.  As the car was unveiled at Corvette Central's vendor area, it was obvious that we had made the right decision.  All day every day, the Cutaway Corvette had crowds trying to find out where many hard to access parts were located.
Close-up images of the Cutaway Corvette can be found here.  Be sure to bookmark CC Blog for Corvette Central Cutaway updates and events where the Cutaway will be displayed.