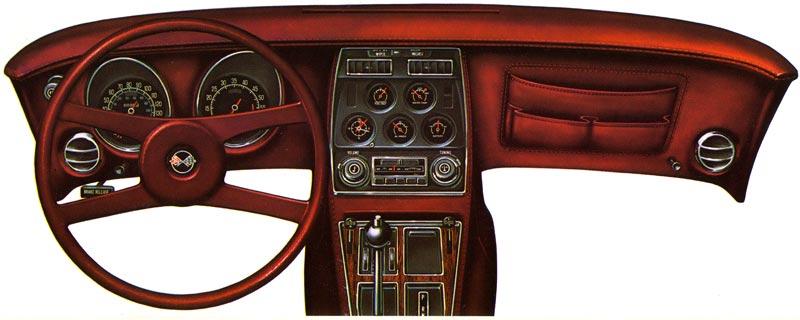 We get many inquiries from owners of 1976 Corvettes on the options they have to upgrade their steering wheel.  It seems that the OEM wheel bears an uncanny resemblance to the one that Chevrolet specified for the basic transportation device known as the Vega.  Our product technical reps have come up with a remedy that will allow the use of a 1977-82 wheel on the 1976 steering column, with specific guidelines for cars with or without the Tilt & Telescopic feature:
Installing a 1977-1982 steering wheel onto a 1976 steering column
The 1976 column is very similar to the 77-82 column, both the standard and the T&T (tilt and telescopic) columns.
You can adapt the 77-82 leather wrapped wheel in place of the "Vega" steering wheel. You will have to locate some of the attaching hardware for the steering wheel and the telescoping feature since the 76 wheel was unique to that year.
NOTE: Since the early T&T columns  telescoped 2.1 inches while the later columns only 1.3 inches, you may notice if you adapt the later wheel, that when you telescope the wheel all the way to the rear, you will find a small gap appearing between the lower edge of the extension and the top of the column head.
However, most drivers want more arm reach not less, so rarely pull the wheel all the way to the rear.
For T&T columns, we have recently introduced a new kit that contains everything required except for the steering wheel (several available separately).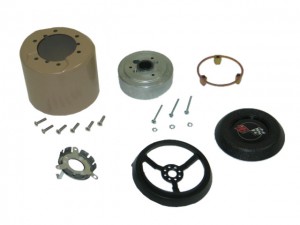 Part number for the new kit is 563066, and it includes the following:
563034 Steering Wheel Hub – New
563354 Steering Column Bell with T & T
342225 Steering Wheel Mount Screw – Except 76
562138 Tele Steering Column Ring Spacer
563036 Tele Column Lock Ring – Except 76
563110 Horn Contact Button Retainer with Tele
343008 Horn Contact Screw with Tel
563106 Horn Button Kit with T & T
Price: $189.00
For non-T&T columns you will need:
| Part name | GM number | CC number | Price |
| --- | --- | --- | --- |
| Hub | 3937896 | 563026 | 49.00 |
| Horn button | 3957946 | 563105 | 47.95 |
| Horn button retainer | 3937897 | 563111 | 19.95 |
| Retainer screws | Set of 3 | 341226 | 2.50 |
| Horn "brush" | 474102 | 562120 | 5.75 |
| Canceling cam | 7812210 | 563116 | 11.95 |
| Steering wheel screws | Set of 6 | 342225 | 3.95 |
| Steering wheel | | Several available | |
Most parts will be pictured on our web site www.corvettecentral.com