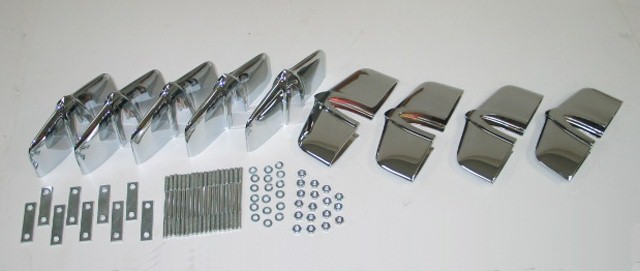 In the near future we'll be showcasing some Corvette parts that we manufacture at our facility in Sawyer, Michigan. But for now, here's a little history on our first parts ever offered by Corvette Central: the 1953-60 grille teeth. Company founder Jerry Kohn: "Our first parts were grille teeth for the 1953-60.  To know why this was more complex than it sounds, you have to know a little bit about the 1953-60. There were five different size teeth for the grille. But Chevrolet did what they normally did to service parts like this…they made three basic sizes (center, tooth #4 and tooth #1, but not teeth #5 and #6). This is what they catalogued as service parts. Well, of course they weren't right and if you had to replace an entire grille it just wouldn't look right.
"There was one person, at that time, who made some solid aluminum teeth but they weren't very good either. So I had to find myself a good set of original teeth as a start point. I had a little bit of trouble even finding a set. I used to travel a bit to Cincinnati on casting business (Jerry once owned a company called Kohn Kastings). On one trip I stopped to see a guy I met in Indianapolis who had a real choice '57 grille bar with a full set of original teeth…
"That's basically how it happened. I needed grille teeth and I assumed that someone else would. The difference between what I did and what other products were available was that I got a full set of original pieces, made a complete set of molds and did quality castings. We didn't do slush molds or cheap ceramic molds.  We did it right. It was as close to what GM did as you could make.
Those original grille teeth are still manufactured in Michigan as part #421006 (1953-57) and #421106 (1958-60) and they are included in a mix of over 3,000 parts that we currently produce. Stay tuned for more history on Corvette Central exclusive parts, and the production processes behind them.