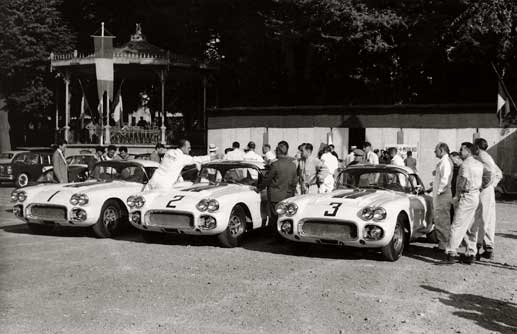 For fans of Corvette Racing, 2010 marks a special occasion: the 50th anniversary of a Corvette's first class win during the legendary 24 Hours of Le Mans. That year, three 1960 Corvettes were prepared and entered by privateer and racer Briggs Cunningham. Cunningham's effort was not endorsed or funded at all by General Motors, as this was at a time when GM imposed a ban on factory racing of any kind. GM even withdrew registration for Corvette Chief Engineer Zora Arkus Duntov, who was to co-pilot one of the three Cunningham Corvettes.
The first Team Corvette at Le Mans faced some formidable competition from the factory backed efforts of Ferrari, Aston Martin, Jaguar and Porsche. In complete contrast to the 2010 Corvette C6.R's that will be driven at Le Mans the weekend of June 12, 2010, the 1960 cars were pulled off of the production assembly line, drum brakes, solid axles and all. The three cars had 2 drivers each to assist each other in the grueling 24 hour race. The #1 car was piloted by Cunningham and William Kimberley. #2 was driven by Fred Windridge and Dr. Dick Thompson (aka the Flying Dentist) and the #3 was driven by John Fitch and Bob Grossman.
The cars all ultimately experienced different outcomes from the race, but the #3 car achieved a once in a lifetime accomplishment: a class win for the Chevrolet Corvette, in the first year any Corvette competed at Le Mans. The car, with its production origins, overheated in the 23rd hour of the race, and race rules prohibited cars from receiving any fluids other than fuel. The #3 crew acted quickly and packed ice from drink coolers into the engine bay, enabling the Corvette to continue on to victory. This win is said to cement Zora Arkus Duntov's desire to make the Corvette a world champion on the track. Here is how the 1960 Corvettes fared:
#1 Corvette (Cunningham / Kimberly): DNF (accident)
#2 Corvette (Thompson / Windridge): DNF (accident, completed 207 laps)
#3 Corvette (Fitch / Grossman): 8th overall, Class Winner (4,000 to 5,000cc)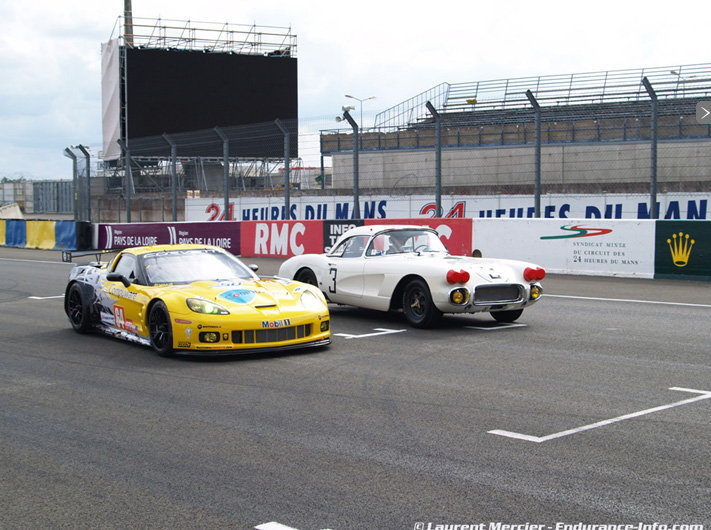 At this year's Le Mans event, 50 Corvettes will lap the famous 8-mile course in "un tour d'Honneur" to recognize Team Corvette's accomplishments through the years. Leading the pack will be the #3 1960 Corvette, currently owned by Lance Miller, son of the late Chip Miller (founder of Carlisle Events and organizer of Corvettes at Carlisle). Chip Miller located the #3 Corvette after it had faded away into obscurity and had it restored to its former glory. It was Chip's intention all along to have the #3 car at Le Mans for its 50th Anniversary, a dream that Lance is now realizing. To ensure a safe delivery for this very significant car, Team Corvette (now factory backed despite renewed scrutiny of GM's racing programs) has transported the 1960 to Le Mans alongside its two 2010 Corvette C6.R race cars. Driving the car will be none other than original driver John Fitch (age 92), with Lance riding along in the passenger seat.