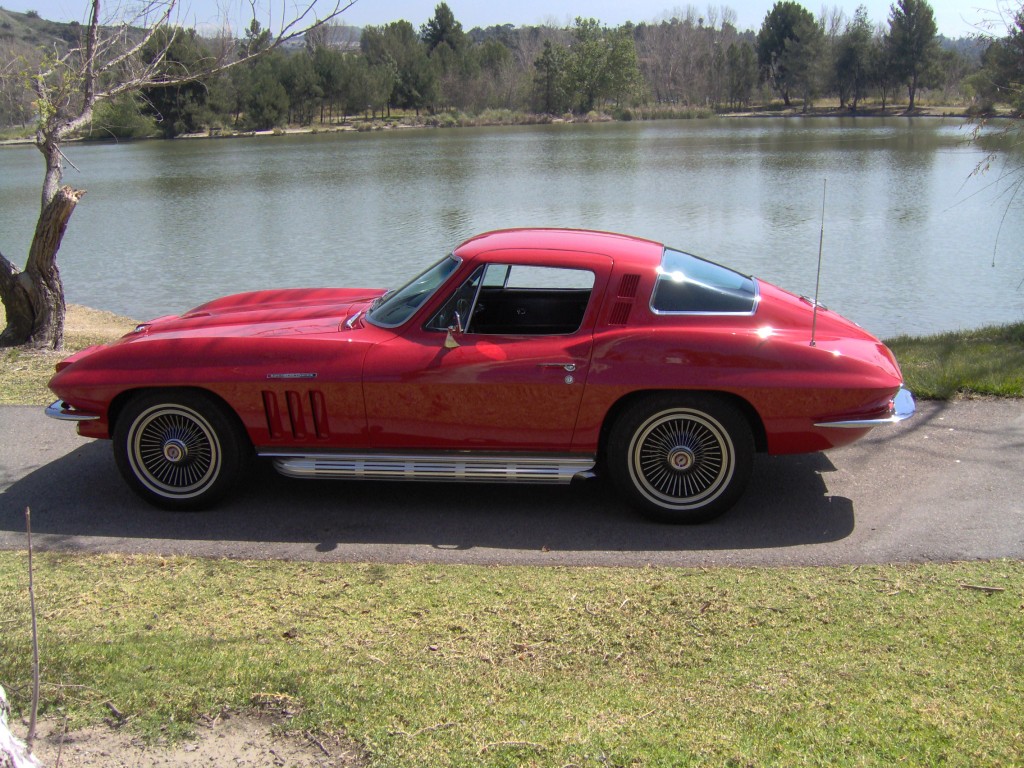 For your convenience, we have compiled a list of all available ride heights for 1964-1982 Corvettes, taken from their respective Assembly Instruction Manuals.
Notice that the measurements get simpler as the years progress. The early years are very thorough, including how various options will affect ride height. The later years? Not so much.
Measurements are curb measurements, meaning that oil, coolant and gas are at full capacities.
Year
Options/Notes
Front
Rear
1964-1974: measurements taken
behind front wheel well <F> and in front of rear wheel well <R>
1964
base
8.6″
8.79″
1965
base
8.6″
9.16″
1966
base
8.67″
9.16″
M35 (automatic)
8.61″
9.14″
N40 (power steering)
8.57″
9.12″
L36 – L72 (big block)
8.52″
9.05″
L79 (327/350)
8.52″
9.14″
C07 (hardtop convertible)
8.55″
9.00″
C60 (327 w/ air)
7.94″
8.92″
C60 (427 w/ air)
8.63″
9.10″
1967
base
8.67″
9.16″
M35 (automatic)
8.62″
9.14″
N40 (power steering)
8.59″
9.12″
L36 – L72 (big block)
8.54″
9.05″
L79 (327/350)
8.61″
9.14″
C07 (hardtop convertible)
8.52″
9.00″
C60 (327 w/ air)
8.11″
8.92″
C60 (427 w/ air)
8.64″
9.10″
1968
base coupe
8.24″
8.15″
327 w/ air
8.21″
8.08″
base convertible
8.20″
8.05″
convertible 327 w/air
8.17″
7.99″
L79 (327/350)
8.20″
8.12″
L79 w/ air
8.17″
8.06″
L79 convertible
8.15″
8.03″
L79 convertible w/ air
8.12″
7.97″
L36 (427/390)
8.08″
8.02″
L36 w/ air
8.05″
7.96″
L36 convertible
8.03″
7.92″
L36 convertible w/ air
8.01″
7.87″
L68 (427/400)
8.20″
8.07″
L68 w/ air
8.16″
8.01″
L68 convertible
8.15″
7.97″
L68 convertible w/ air
8.12″
7.92″
L71 (427/435)
8.18″
8.06″
L71 convertible
8.14″
7.97″
L71 w/ F41 suspension
7.14″
7.51″
L71 convertible w/ F41
suspension
7.12″
7.44″
L88 (427/430)
7.31″
7.57″
L88 convertible
7.28″
7.51″
1969
base coupe
8.03″
7.98″
base coupe w/ air
8.01″
7.92″
base convertible
8.14″
7.92″
base convertible w/ air
8.11″
7.86″
L46 (350/350)
8.03″
7.96″
L46 w/ air
8.00″
7.91″
L46 convertible
8.13″
7.91″
L46 convertible w/ air
8.10″
7.85″
L36 (427/390)
7.90″
7.85″
L36 w/ air
7.86″
7.79″
L36 convertible
7.99″
7.80″
L36 convertible w/ air
7.94″
7.73″
L68 (427/400)
7.86″
7.84″
L68 w/ air
7.82″
7.77″
L68 convertible
7.96″
7.78″
L68 convertible w/ air
7.91″
7.71″
L71 (427/435)
7.84″
7.83″
L71 convertible
7.94″
7.77″
L71 w/ F41 suspension
6.94″
7.37″
L71 convertible w/ F41
suspension
7.00″
7.34″
L88 (427/430)
7.31″
7.53″
L88 convertible
7.37″
7.49″
L89 (aluminum head L71)
8.12″
7.94″
L89 convertible
8.21″
7.89″
L89 coupe w/ F41 suspension
7.11″
7.44″
L89 convertible w/ F41
suspension
7.55″
7.60″
1970
base coupe
8.16″
8.03″
base convertible
8.25″
7.95″
base coupe w/ air
7.79″
7.77″
base convertible w/ air
7.82″
7.68″
base coupe w/ F41 suspension
7.55″
7.60″
base convertible w/ F41
suspension
7.55″
7.60″
1971
350/270 coupe
8.16″
8.03″
350/270 convertible
8.25″
7.95″
350/270 coupe w/ air
7.79″
7.77″
350/270 convertible w/ air
7.82″
7.68″
350/270 coupe w/ F41 suspension
7.55″
7.60″
350/270 convertible w/ F41
suspension
7.55″
7.60″
1972
coupe
7.91″
7.89″
convertible
7.90″
7.73″
F41 suspension
7.28″
7.47″
1973
coupe
7.91″
7.89″
convertible
7.90″
7.73″
F41 suspension
7.28″
7.47″
F70x15″ tires
8.46″
8.34″
GR70x15″ tires
8.44″
8.33″
1974
coupe
8.42″
8.27″
convertible
8.18″
8.13″
1975-1979: measurements taken
and front & rear bumper height
1975
coupe
16.73″
15.14″
1976
coupe
16.97″
15.38″
1977
coupe
16.97″
15.38″
1978
coupe
16.97″
15.38″
1979
coupe
16.97″
15.38″
1980-1982: measurements taken at
front & rear impact bar points
1980
coupe
11.42″
16.52″
1981
coupe
11.42″
16.52″
1982
coupe
11.42″
16.52″