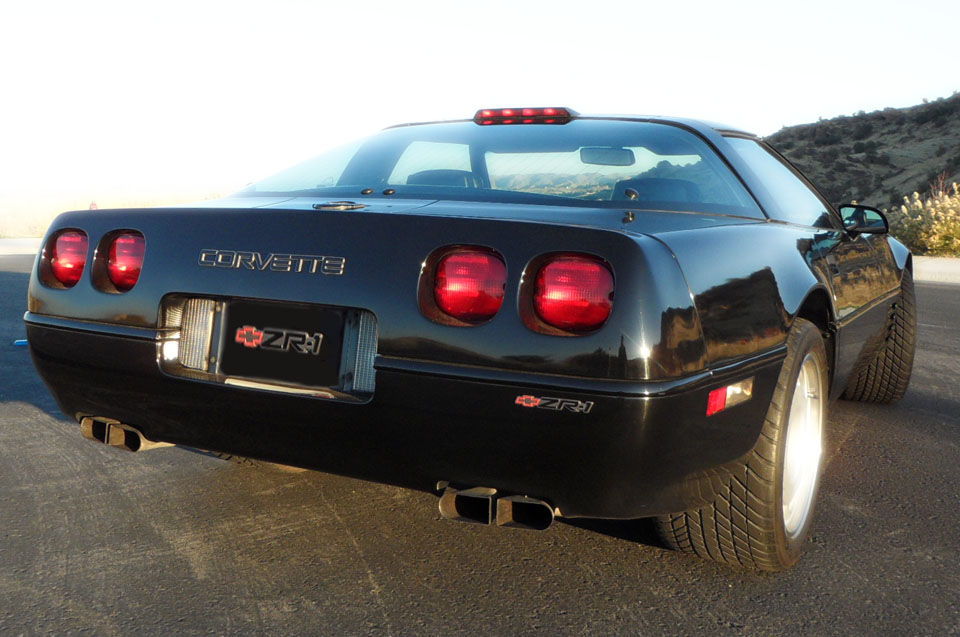 For your convenience, below are the published OEM front and rear tire sizes and speed ratings for every Corvette produced between 1984 and 2013.
Use this example to decipher the letter and number designations in any tire:
P265/35ZR18 (93Y)
P = Passenger tire
265 = cross section width of tire in millimeters
35 = sidewall height (measured as a percentage of tire's section width, in this case 35%)
Z = maximum speed rating (V = 149 mph, Z = over 149 mph, W = 168 mph, Y = 186+ mph)
R = Radial construction
18 = diameter of wheel, in inches
93Y = service description.  This is the load index and speed rating required on all speed rated tires (except Z) since 1991.
Note that the EMT designation stands for Extended Mobility Technology, more commonly known as "run-flat" tires that can safely travel at low speed without air pressure.
Vehicle Model
Corvette Tire Sizes
Generation
Model Year
Option
O.E. Front Tire Size
O.E. Rear Tire Size
C4
1984-1987
Std.
P255/50VR16
P255/50VR16
1988
17″
P275/40ZR17
P275/40ZR17
Std.
P255/50VR16
P255/50VR16
1989-1992
Coupe/Conv.
P275/40ZR17
P275/40ZR17
ZR-1
P275/40ZR17
P315/35ZR17
1993-1996
Coupe/Conv.
P255/45ZR17
P285/40ZR17
ZR-1
P275/40ZR17
P315/35ZR17
C5
1997
Std.
P245/45ZR17/LL 89Y
P245/45ZR17/LL 89Y
1998-2000
Std. EMT
P245/45ZR17/LL 89Y
P275/40ZR18/LL 94Y
1999
Hard Top EMT
P225/50R17/LL 93H
P245/50R17 98H
2001-2004
Std. EMT
P245/45ZR17/LL 89Y
P275/40ZR18/LL 94Y
2003
50th Anniv. EMT
P245/45ZR17/LL 89Y
P275/40ZR18/LL 94Y
Z06
P265/40ZR17/LL 91Y
P295/35ZR18/LL 91Y
C6
2005
Std./Z51 EMT
P245/45ZR18/LL 88Y
P285/35ZR19/LL 90Y
2006-2008
Coupe/Conv. EMT
P245/45ZR18/LL 88Y
P285/35ZR19/LL 90Y
Z06
P265/35ZR18 (93Y)
P325/30ZR19 (101Y)
Z06 EMT
P275/35ZR18/LL 87Y
P325/30ZR19/LL 94Y
2009
ZR1 ZP
P285/30ZR19/LL 87Y
P335/25R20/LL 94Y
2010+
Grand Sport
275/35ZR18
325/30ZR19
2011+
Z06
275/35ZR18
325/30ZR19
2011+
Z06 w/Z07
285/30ZR19
335/25ZR20
2013
427
285/30ZR19
335/25ZR20