What follows has been reprinted with permission from Corvette Online. Written by Paul Huizenga
Welcome back to the second and final part of our series on upgrading Project Y2k, our in-house 2000 Corvette, with the help of Corvette Central Performance and their Stage 1-4 kits for the C5. In part one, we installed the Stage 1 and Stage 2 kits, which are comprised of bolt-on intake and exhaust upgrades, along with a flash tuner to maximize the power gains from the hardware improvements.
The stock car's 317.79 rear wheel horsepower and 334 pound feet on our Dynojet chassis dynomometer netted an eighth-mile time of 8.751 at 80.67. With Stage 1 and 2 installed at the end of Part 1, we had picked up an additional 23 horsepower and 9 pound-feet, and had a new timeslip showing 8.616 at 81.97. That's not bad for basic bolt-ons and a few hours' work, but we were eager to move on to Stage 3 and 4 and see how much farther we could go with Project Y2k.
As with Stage 1 and 2, the Corvette Central Performance Stage 3 and Stage 4 kits are designed to give a turn-key upgrade path for 1997-2004 Corvettes, broken into logical chunks. Per Corvette Central's Matt Gessler, "We want to eliminate the guesswork for late model Corvette owners who are searching for increased performance." The C5 staged upgrade packages are just the beginning for Corvette Central Performance; "The initial focus was for the C5 Corvette," Gessler explains. "It really hits the 'sweet spot' for affordability and performance at this moment. But we also realize that there are plenty of C4 Corvettes that see track duty, and there seems to be no performance limit for the C6. We continue to source the best performance products available for these cars."
Talk is Cheap
As with our previous installment, we will be putting Y2k on the rollers after each stage, then taking the Corvette back to the dragstrip to measure our improvements in the real world. Our baseline going in to Stage 3 was 340.59 horsepower and 343 pound-feet of torque at the rear wheels – very healthy numbers for a decade-old LS1 with a few mods, but we were excited to see what the serious speed parts provided by Corvette Central Performance could add to the bottom line.
Stage 3: Goodbye Logs, Hello Long Tubes
The Corsa mufflers we installed in Stage 2 sound great, look awesome, and helped us pick up a few more ponies, but the rest of the stock exhaust plumbing was still in place. Corvette Central Performance's Stage 3 kit remedies that situation with some of the best long-tube Corvette pipes on the market from Kooks Custom Headers with a matching X-pipe and mid-pipes, plus an SLP underdrive pulley and COMP billet tensioner.
Like the Stage 1 kit, there are two different part numbers available from Corvette Central Performance, depending on what year C5 you have. PN 305462 covers 1997-2000 cars, while 305488 takes care of the 2001-2004 Corvette. The main difference lies in the position of the passenger-side air injection port on the headers, which changed between the 2000-2001 model years.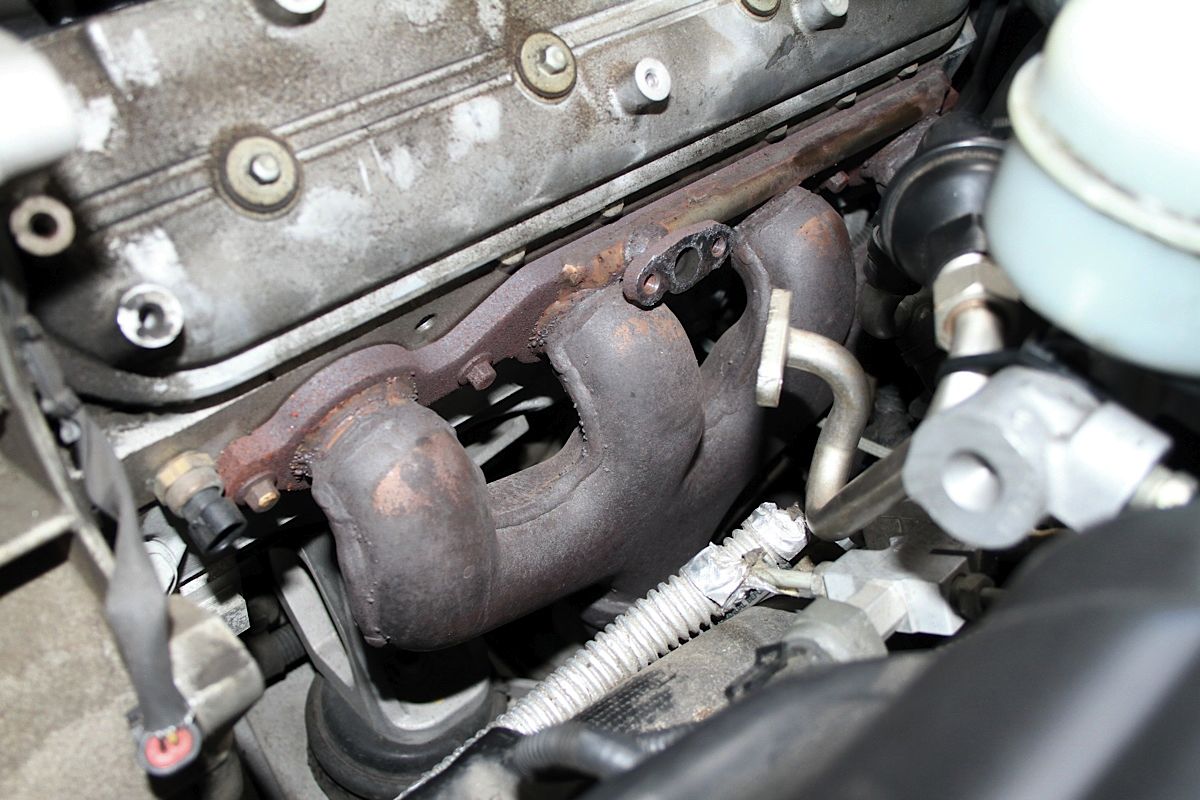 The stock C5 exhaust manifolds aren't the worst thing in the world, but they're clearly designed for packaging convenience rather than all-out performance. They're also as ugly as second-hand sin.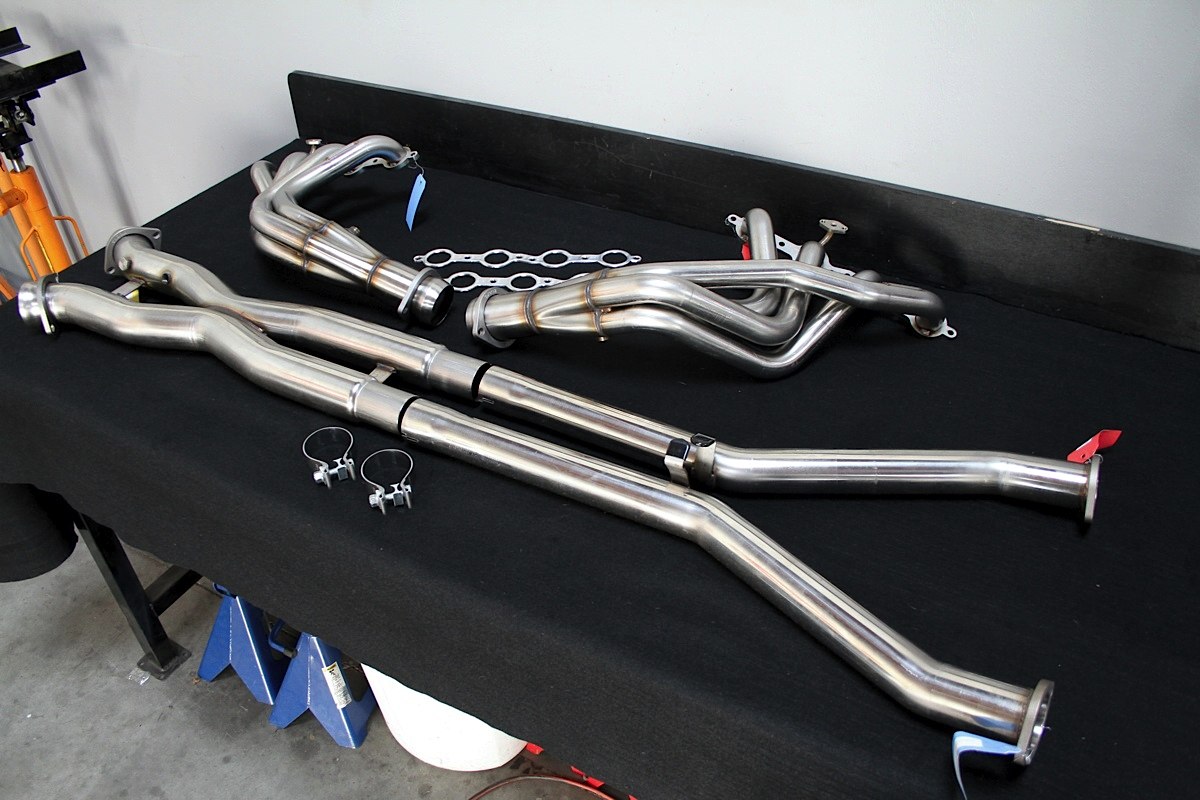 Our new headers, X-pipe, and mid pipe from Kooks, on the other hand, are works of art in stainless steel.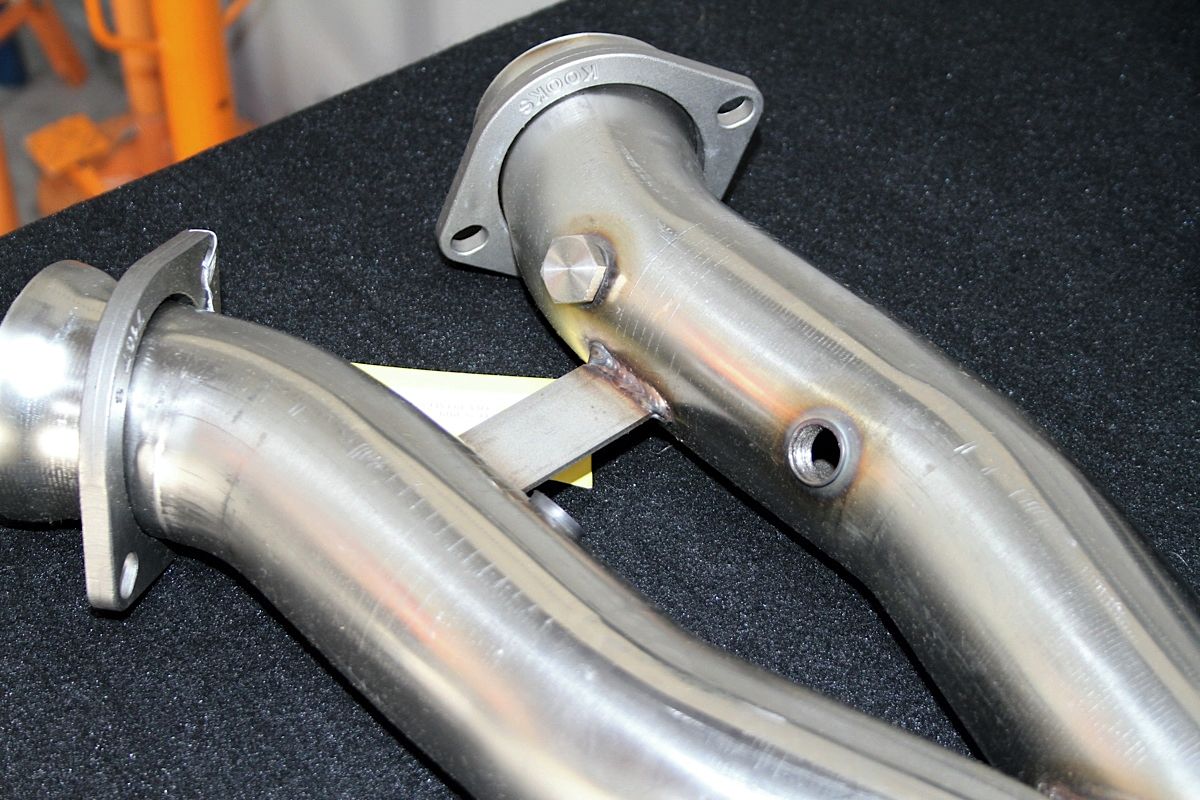 The headers supplied in Corvette Central Performance's Stage 3 package are Kooks' 1 3/4-inch primary design, with 3-inch collectors and provisions for air injection and the primary oxygen sensors. The X-pipe transitions from 3 inches to 2.5, and has bungs for the stock secondary oxygen sensors, as well as an additional capped bung for an aftermarket wideband unit – a thoughtful touch.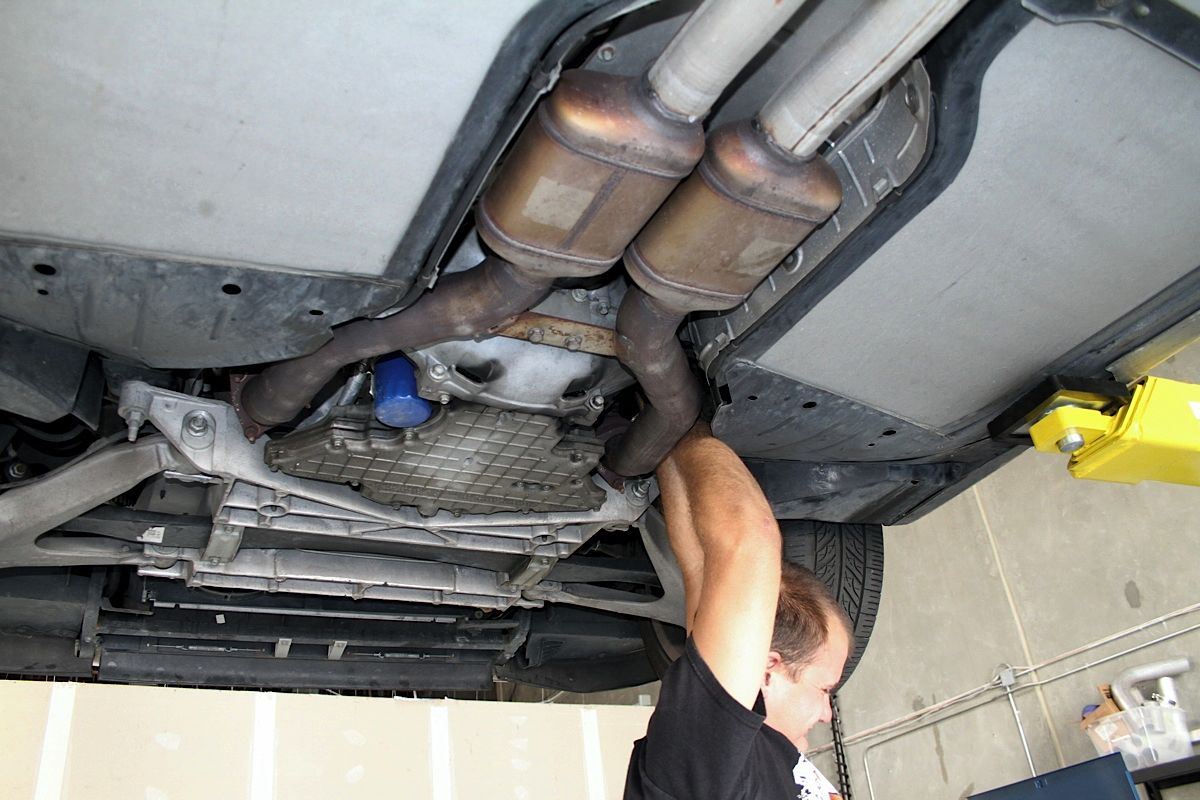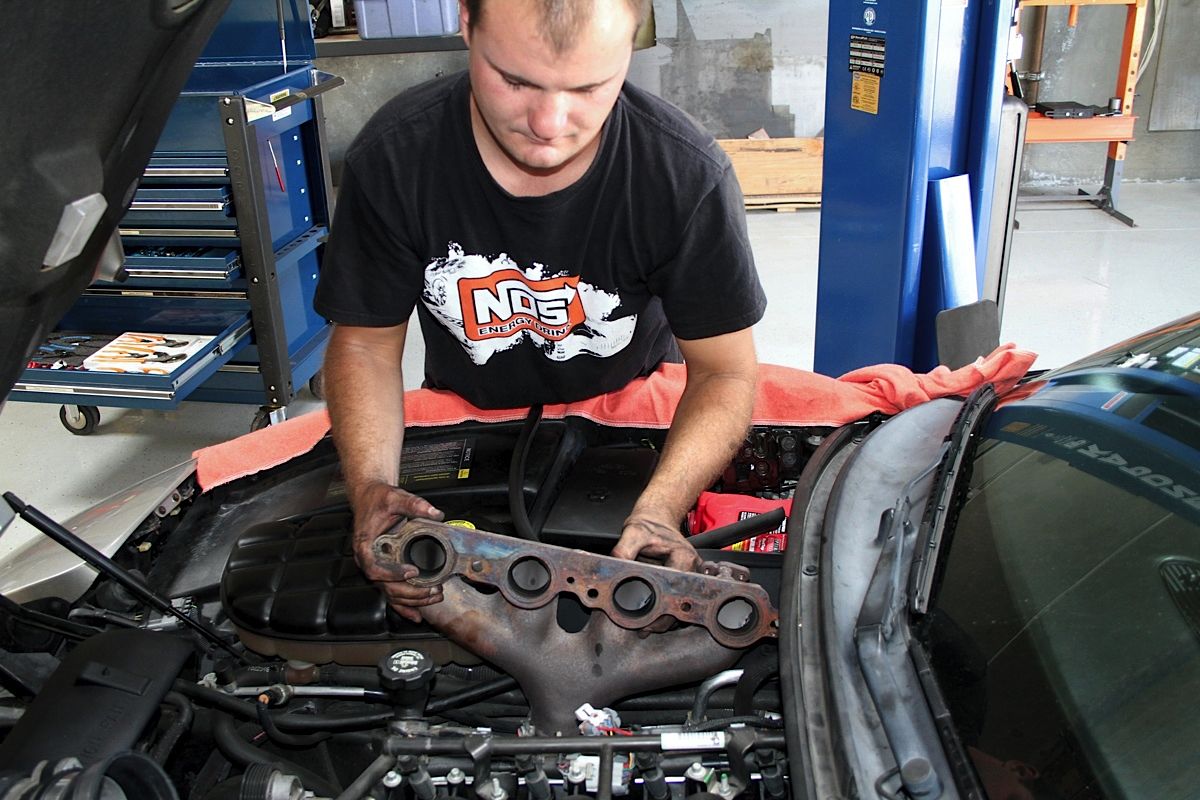 We started Stage 3 by pulling the stock H-pipe, then unbolting and removing the stock exhaust manifolds.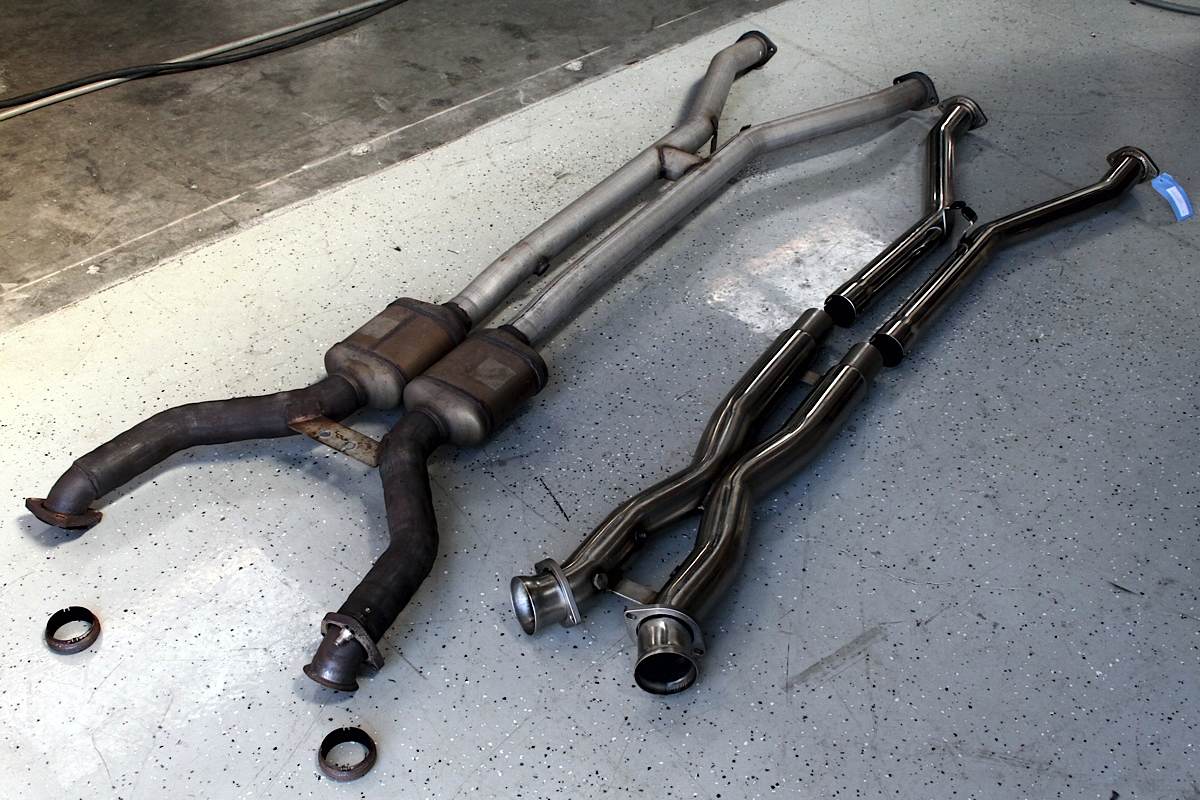 The stock H-pipe, compared to the uncatted Kooks X-pipe. Guess which is which…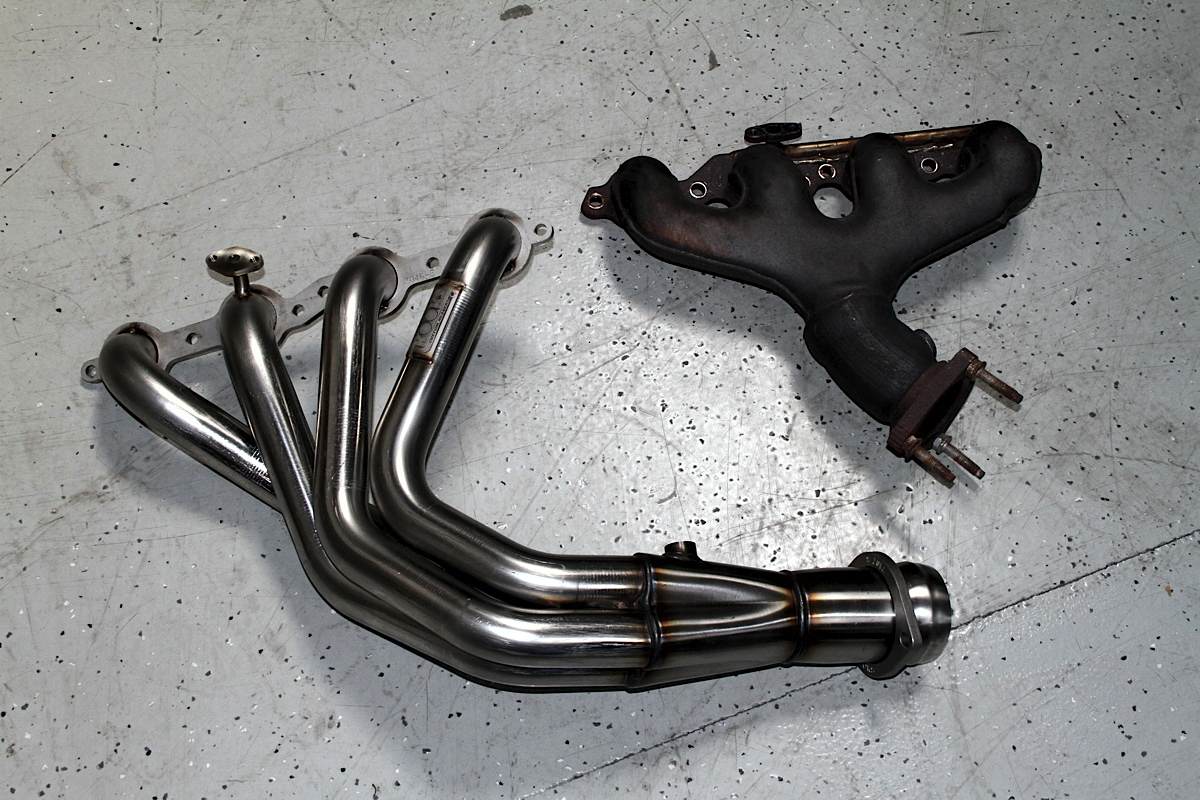 A side by side comparison of the Kooks' header and the stock manifold shows how much of a physical difference there is. Long tube headers usually really wake up LS engines, and we were hoping ours would be no exception.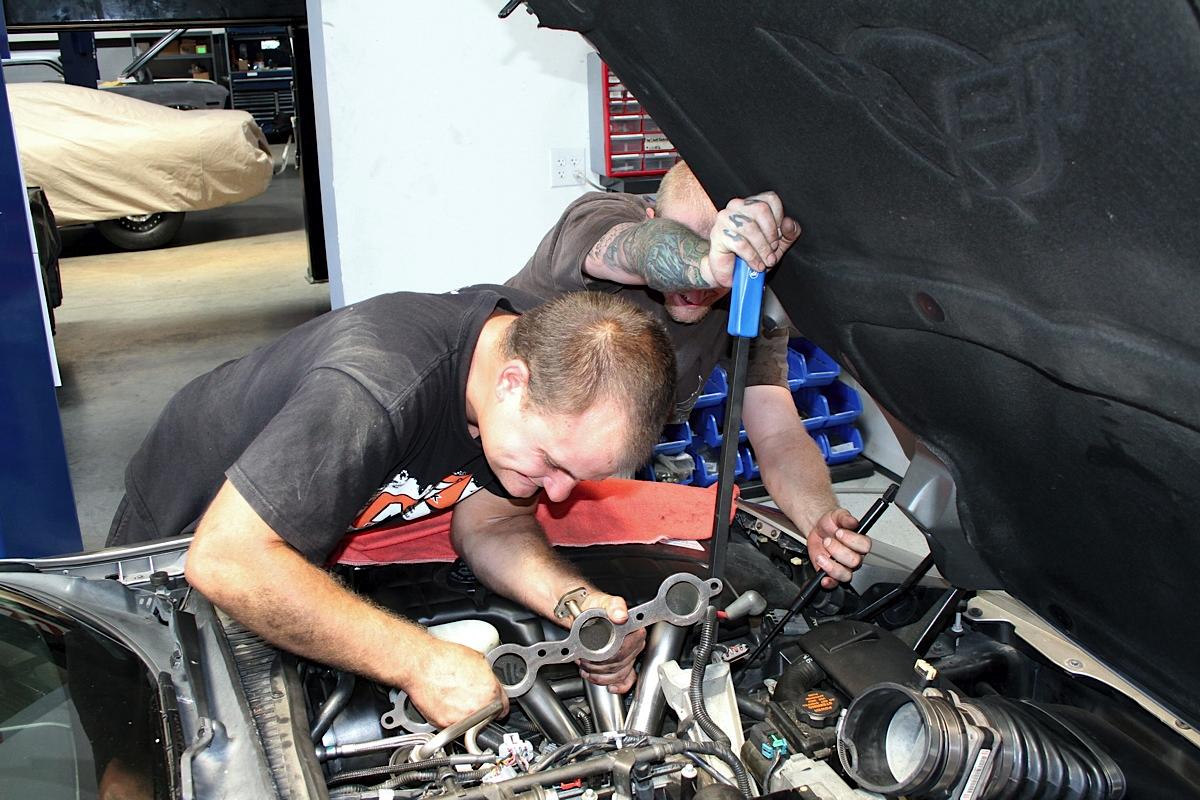 We'll be honest – even using Kooks' instructions, long tube header installation is not something that can be accomplished without a little bit of effort. The motor mounts must be unbolted to allow you to rock the engine side to side slightly, and it takes an extra set of hands to hold the engine in position with a persuasion tool while the headers go in.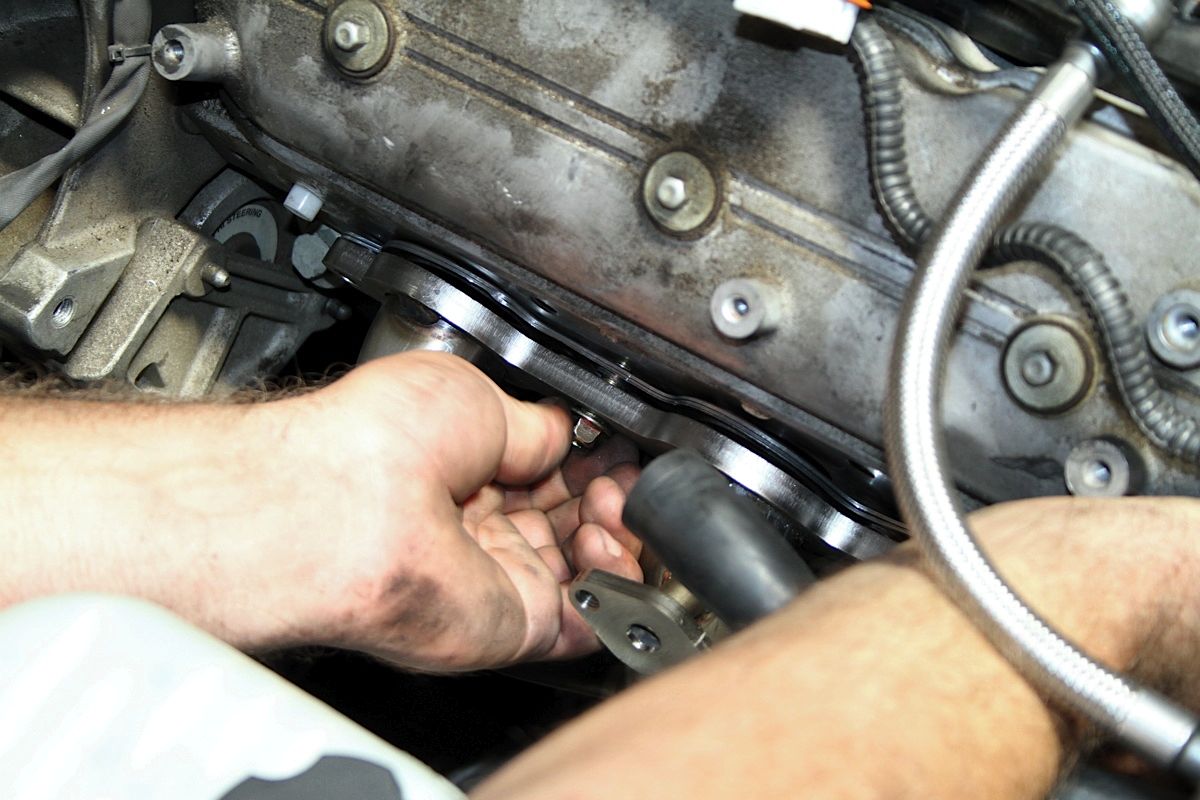 Once in place, the headers were bolted up using the supplied multilayer gaskets and new hardware.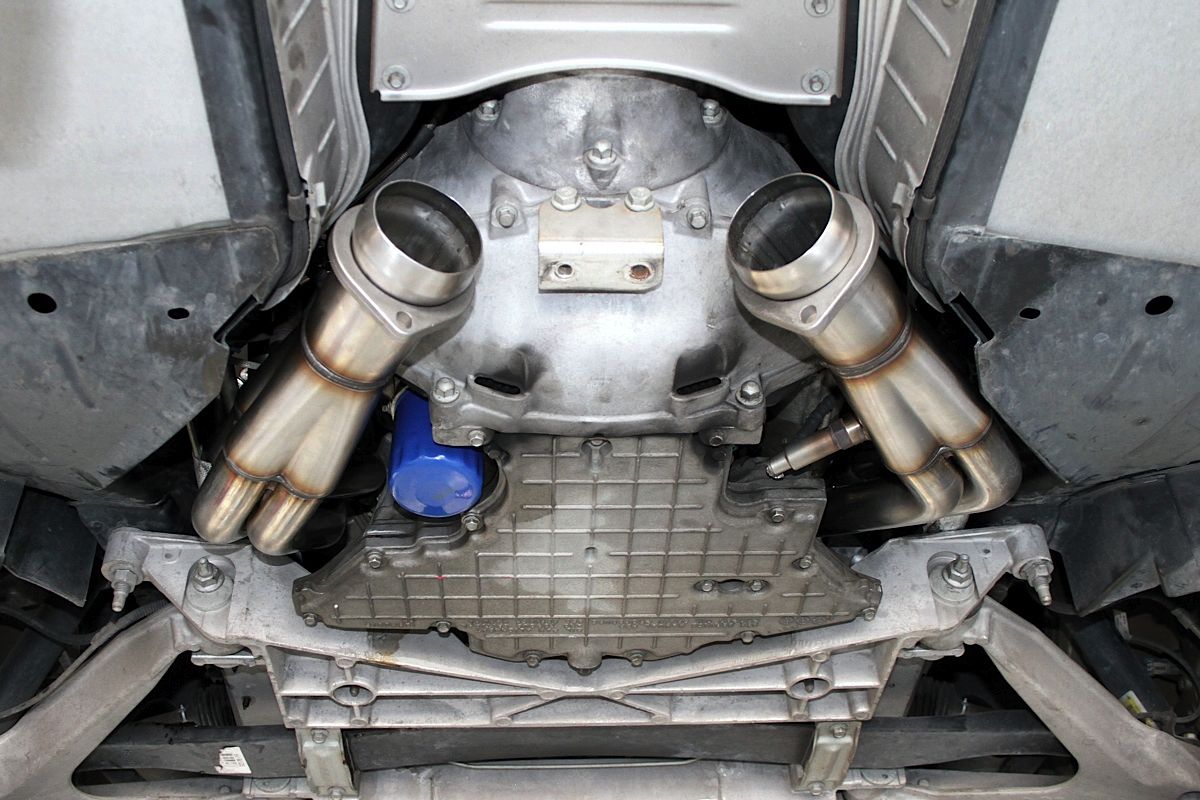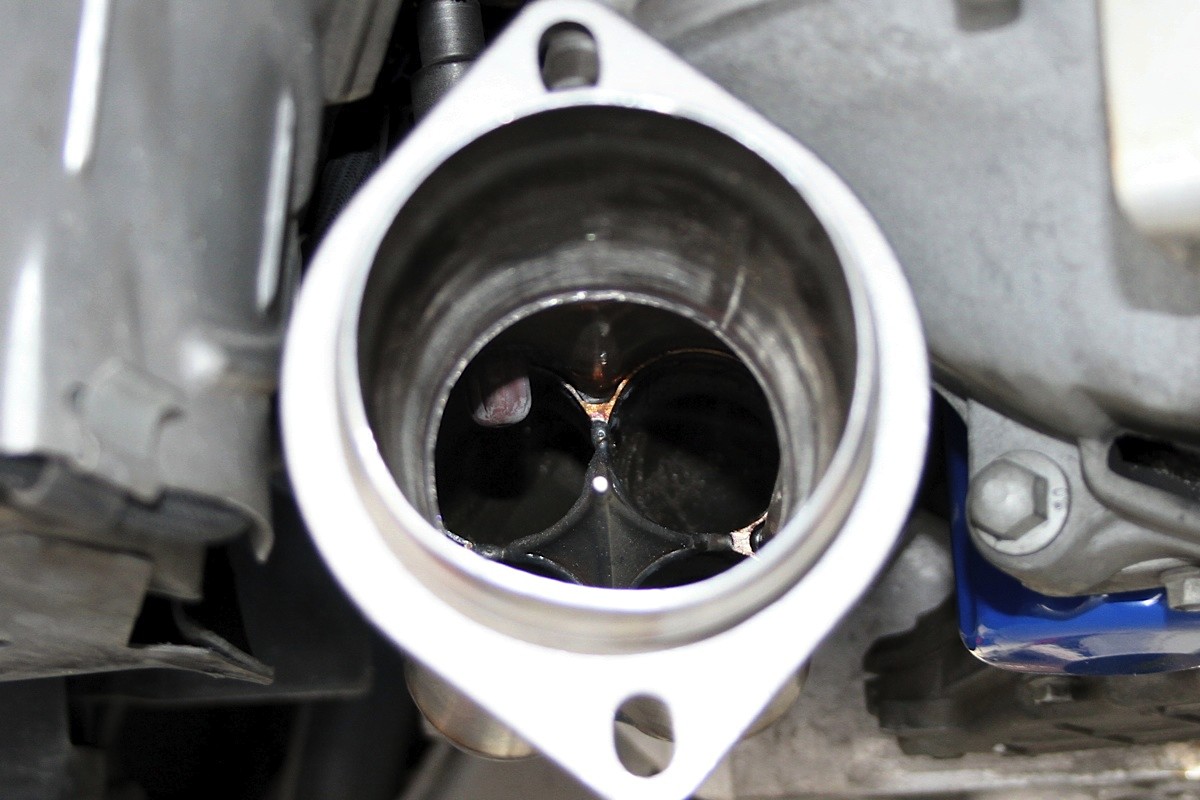 The long tube headers come together in the center of the car to meet the X-pipe, and feature an internal collector spike to smooth the exhaust flow.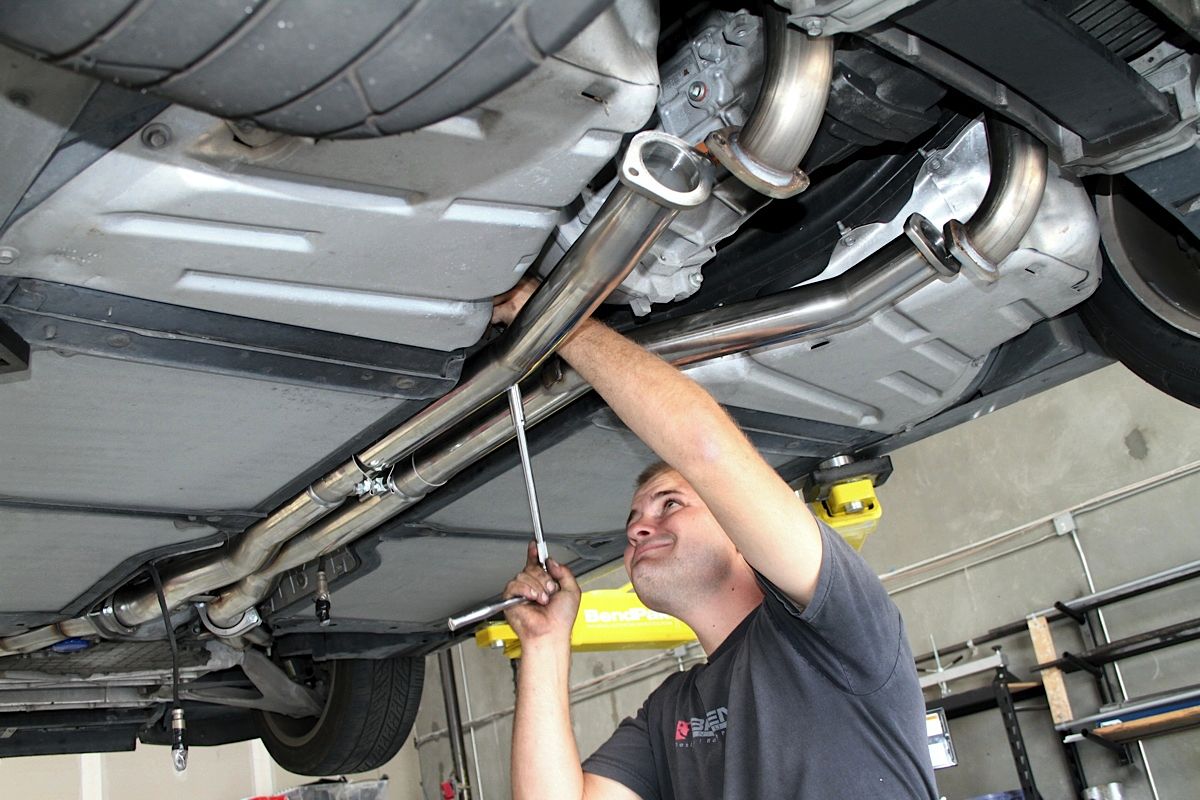 The last step in our exhaust makeover was connecting the headers to the previously installed Corsa Pace Car axle-back exhaust with the Kooks X-pipe and mid-pipes.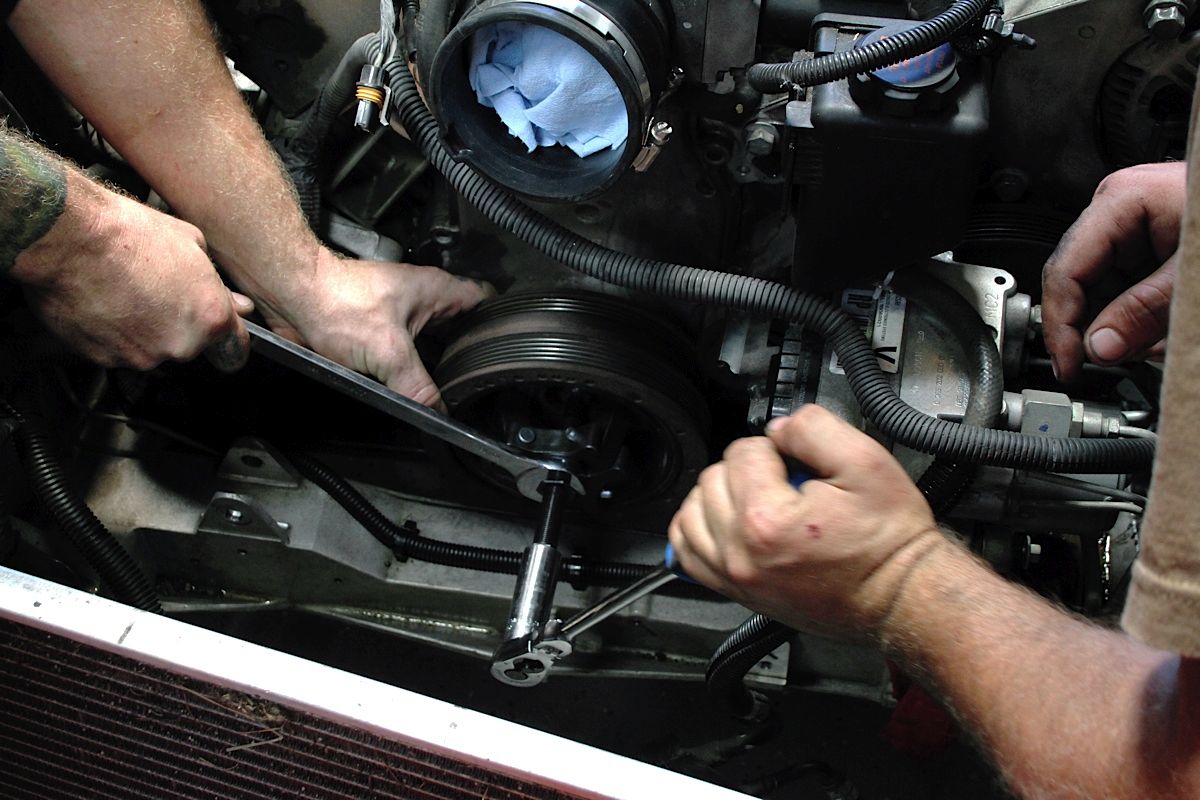 Next up for Stage 3 was the SLP underdrive harmonic damper/crank pulley. In order to pull the stock damper, the Corvette's radiator and steering rack must first be removed…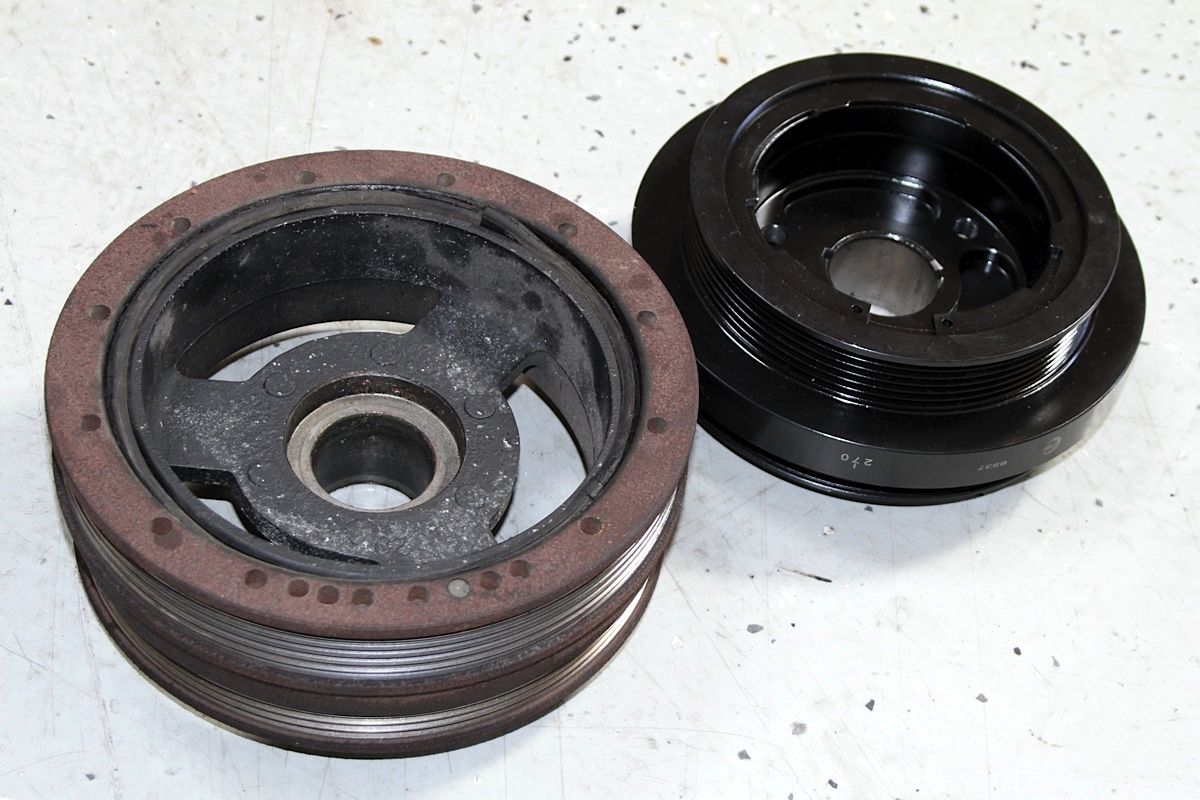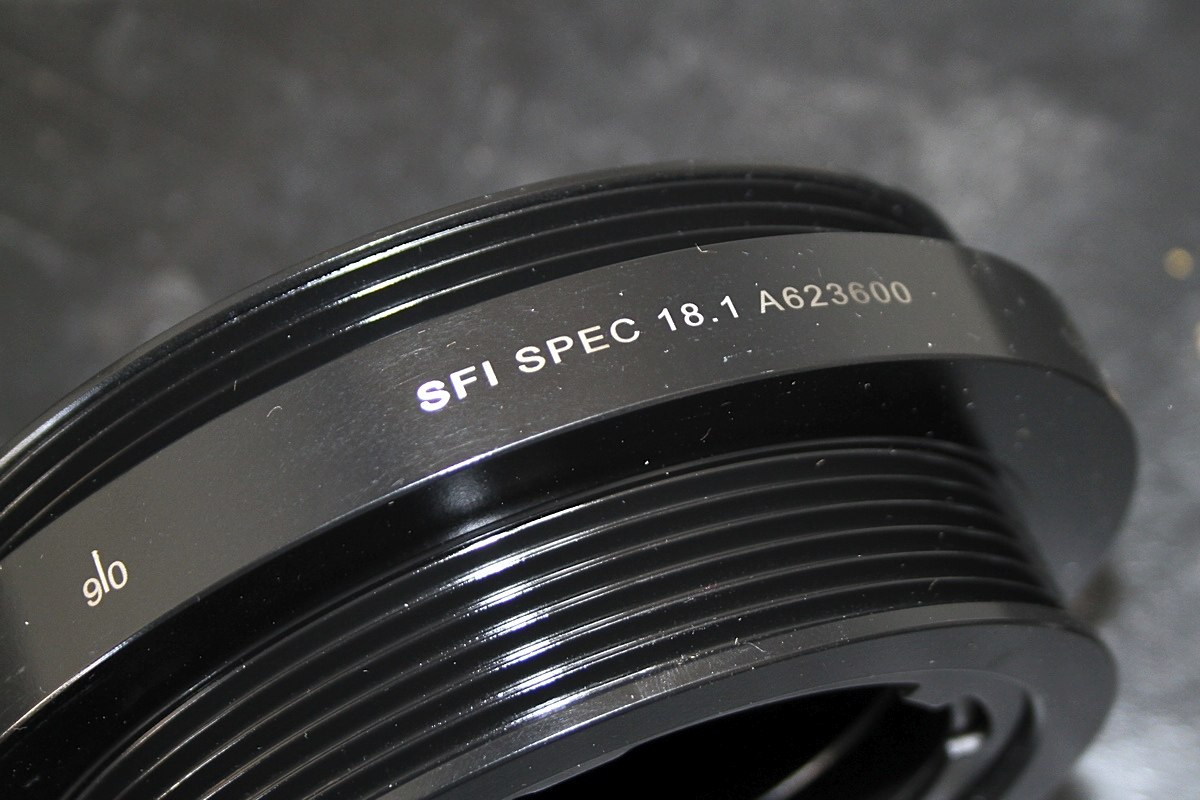 The SLP damper frees up power by turning the accessories 25% more slowly than the stock pulley, and it also meets SFI specifications for drag race use and safety at high RPM.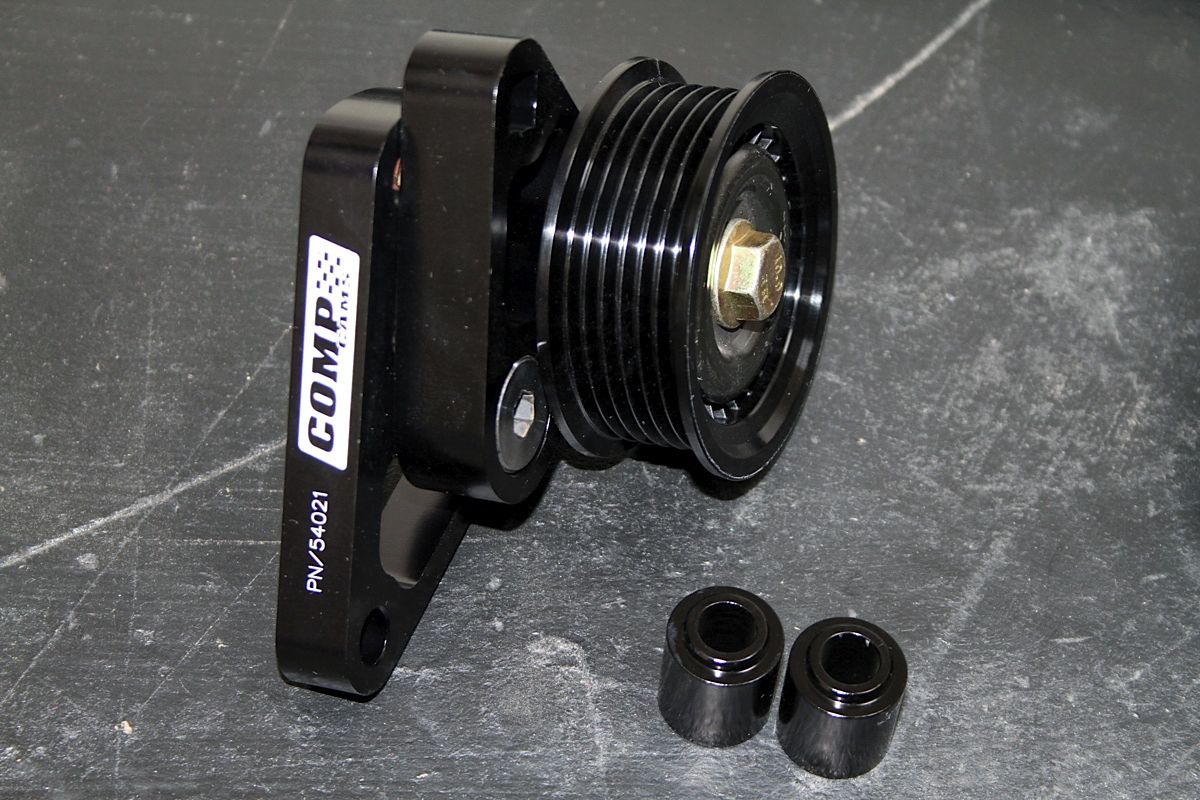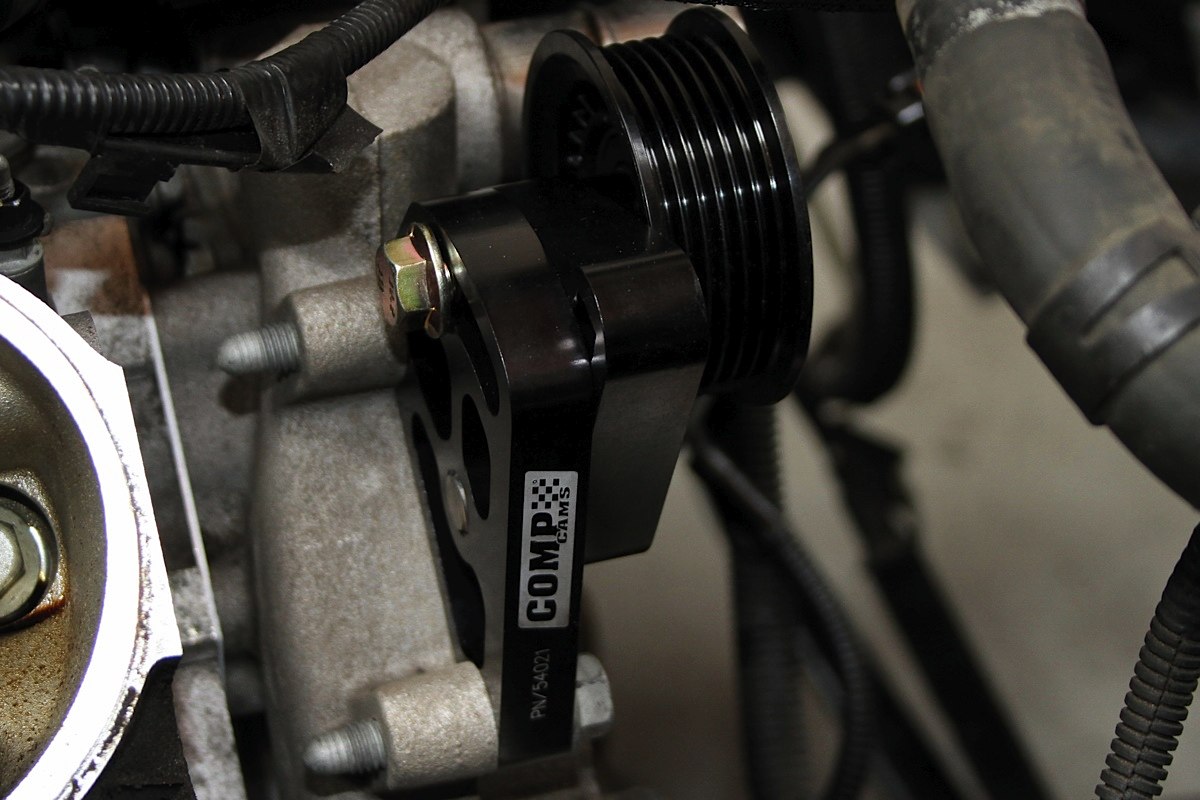 The final part of Stage 3 was Comp's adjustable belt tensioner. Like the damper pulley, it features taller sidewalls to help prevent belt loss at high speed, and unlike the stock spring-loaded tensioner, it lets you precisely control just how much tension is on the main accessory belt.
Stage 3 Results
With our new exhaust and pulley installed, we were right back on the Dynojet to quantify our results. Three pulls later, with the same tune we had loaded for Stage 2, we had an average of 354.15 horsepower and 352.47 pound-feet of torque, a gain of 13.56 horsepower and 9.47 pound feet from our previous high-water mark.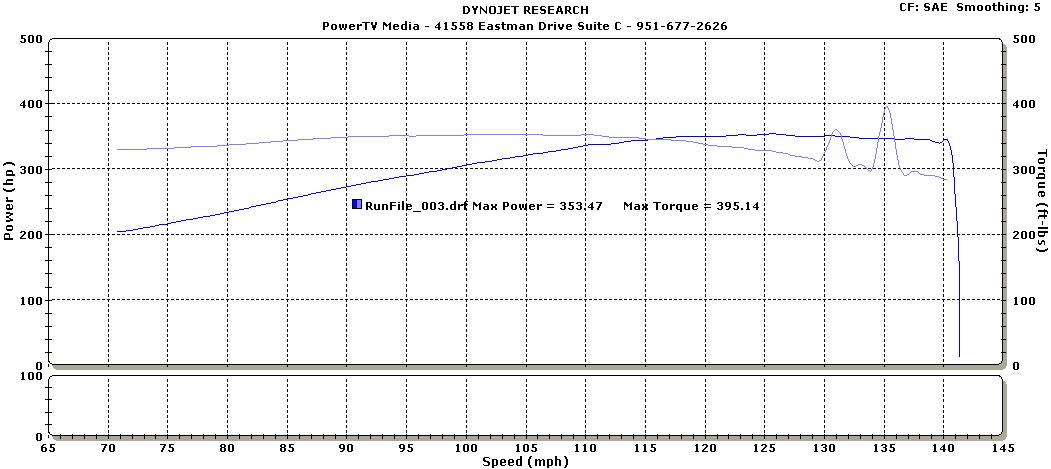 The addition of Kooks headers, X-pipe, midpipes, and the SLP underdrive pulley netted an additional 13.5 horsepower and 9.47 pound-feet to the tires.
Stage 4: A New Bumpstick
Finally, it was time to complete our Corvette Central Performance upgrades with the installation of Stage 4, consisting primarily of a new COMP camshaft, an SLP high-performance oil pump, and supporting hardware to increase reliability and the ability to turn revs. LS1/LS6 engines are well known for their responsiveness to cam swaps, so we were very curious to see what Corvette Central Performance's choice of specs would do, both in terms of power to the wheels and day-to-day drivability.
The cam provided in the Stage 4 kit is a COMP XR275HR grind, part of the XFI RPM High Lift hydraulic roller family. COMP describes it as a "great street/strip camshaft for midrange and high RPM power" and notes that computer modifications are required. We like a nice, lopey cam, but looking at the lift and duration numbers, we wondered if we were getting ourselves into a Corvette that idled with a little more wiggle than we would like…
COMP XR275HR Vitals:
Gross lift (intake/exhaust) – .566/.568
Duration at .050 – 222/224
Lobe Separation Angle: 112.0 degrees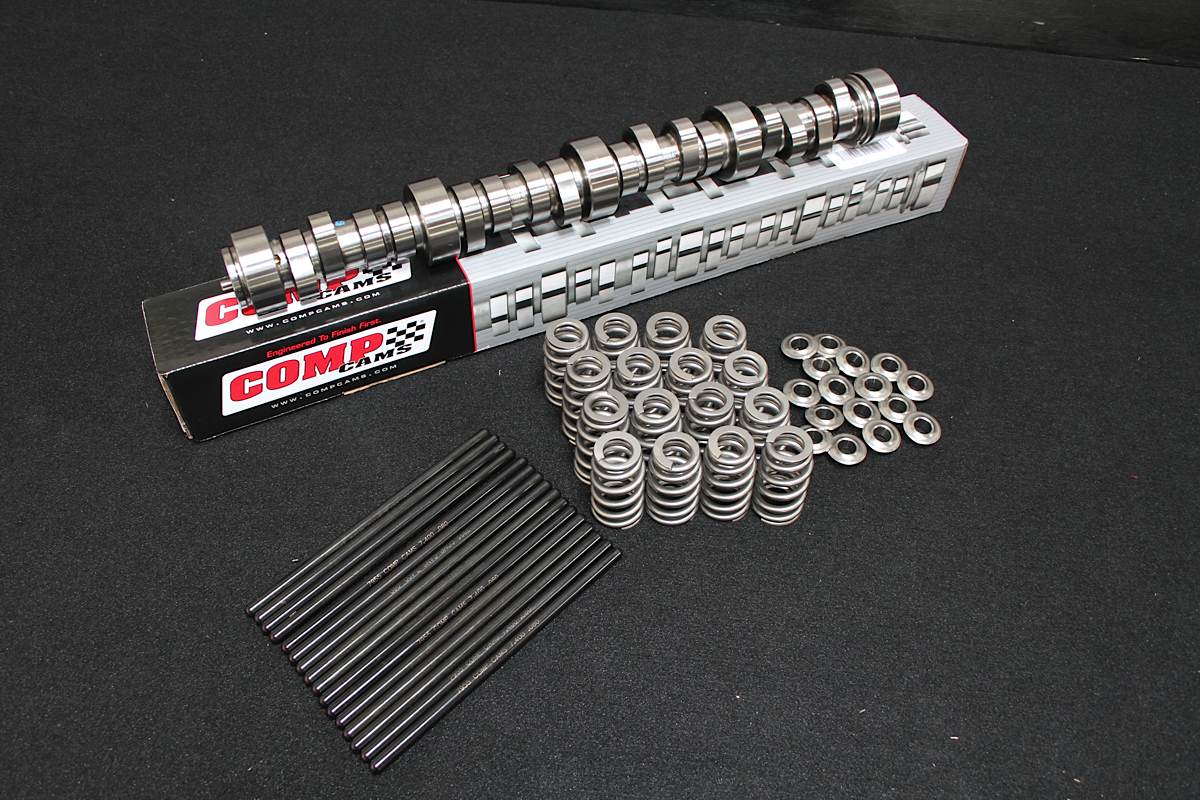 The heart of Stage 4 is COMP's XR275HR cam, and Corvette Central Performance also provides matching COMP valvesprings, pushrods, and titanium retainers.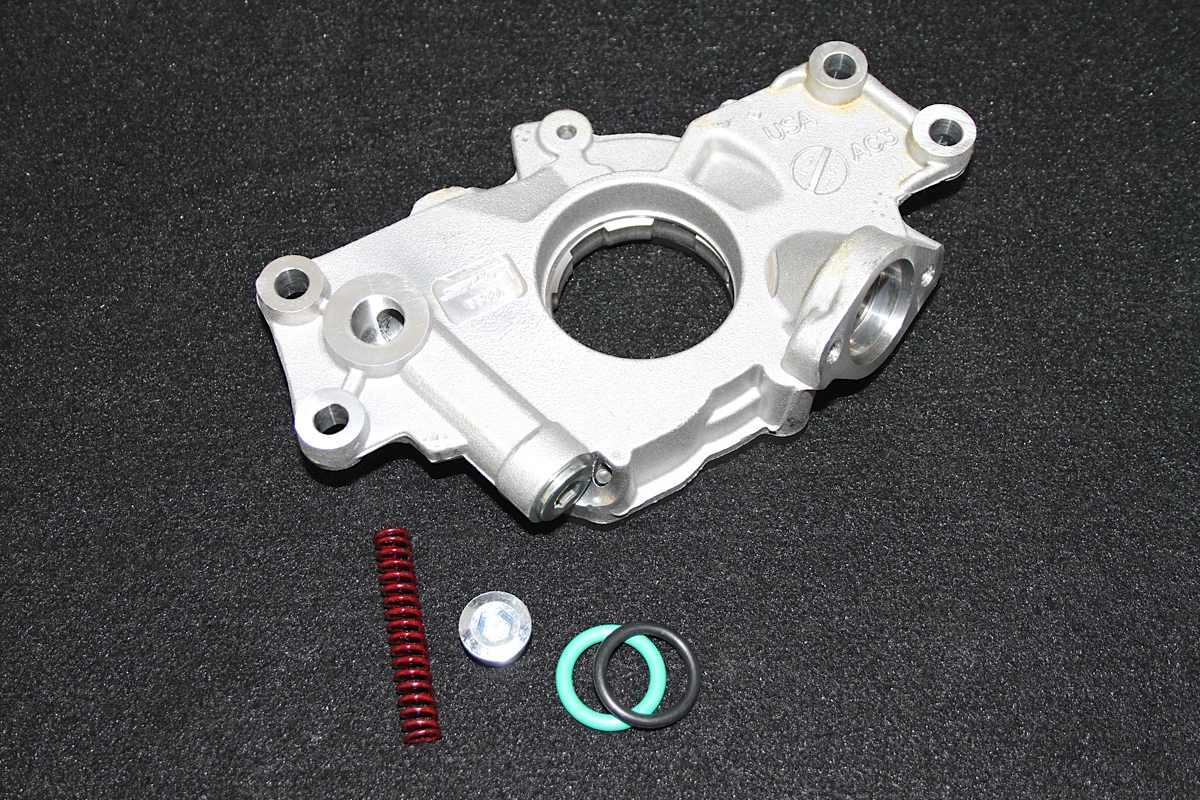 SLP's high performance oil pump is ported on both the inlet and outlet sides, blueprinted, and given a unique serial number. SLP provides an optional bypass spring that raises operating oil pressure by 5 PSI, which we installed before putting on the pump.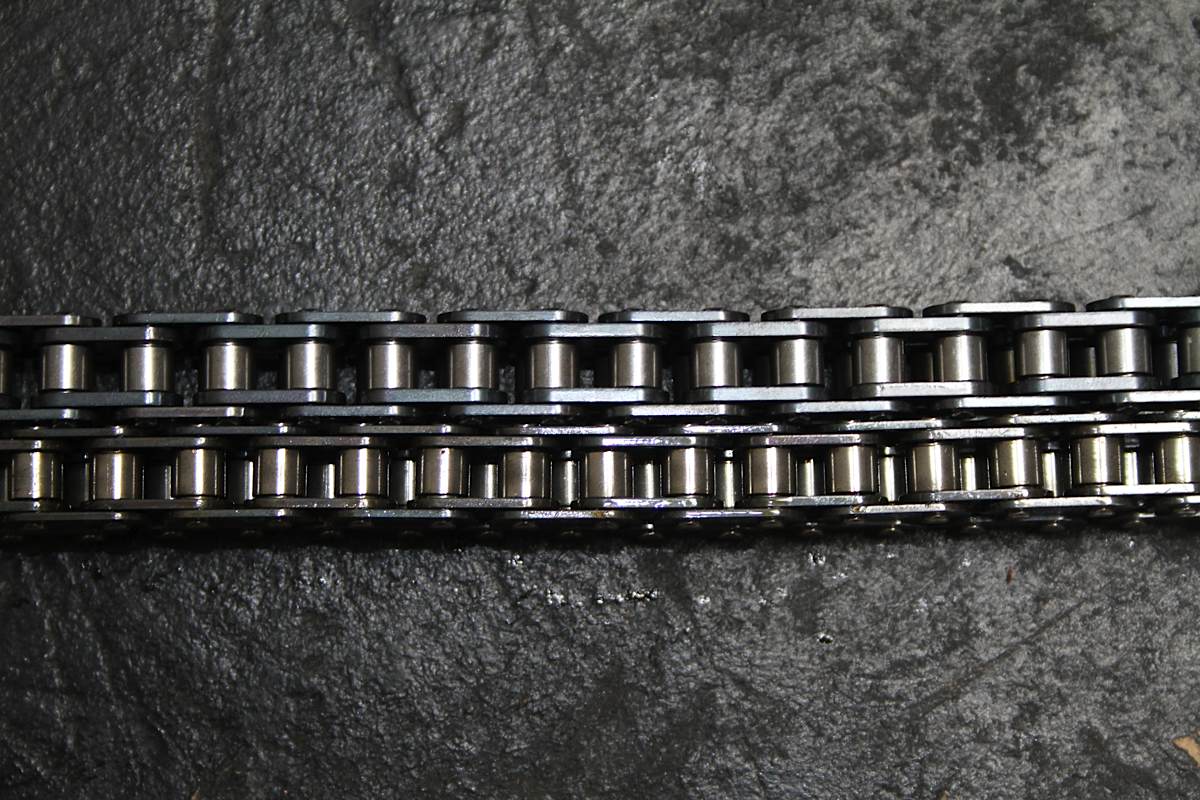 Another important upgrade is switching to the newer factory LS7-style timing chain (top). Just by looking at it you can see that the side plates are far more robust than the stock LS1 chain.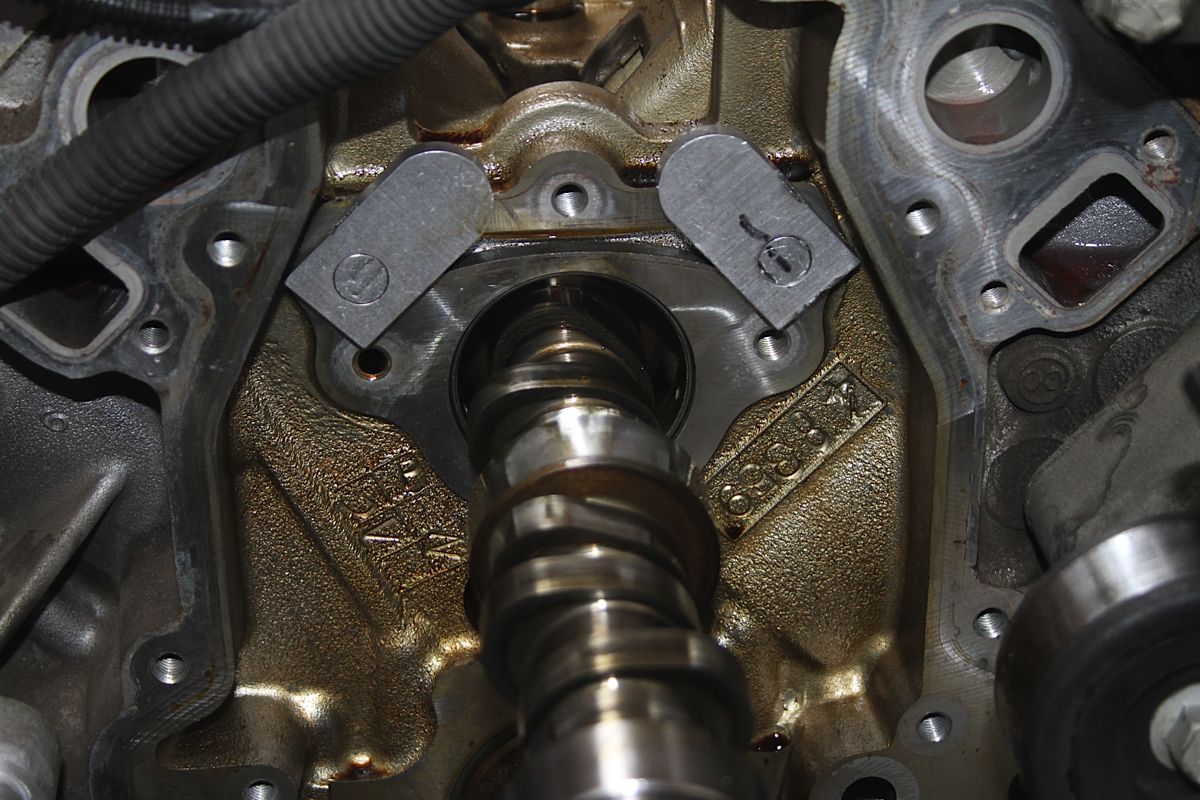 Because of how the LS engine is designed, the lifters are not accessible without removing the cylinder heads. Once the rocker arms and pushrods are removed, you'll need to have some way to keep the lifters pulled up out of the way during the swap. One way is to use "pencil" magnets through the pushrod holes, or you can do like we did and spin the old cam to knock them up into the top of their bores, then use retaining rods through the oil galleries to keep them there.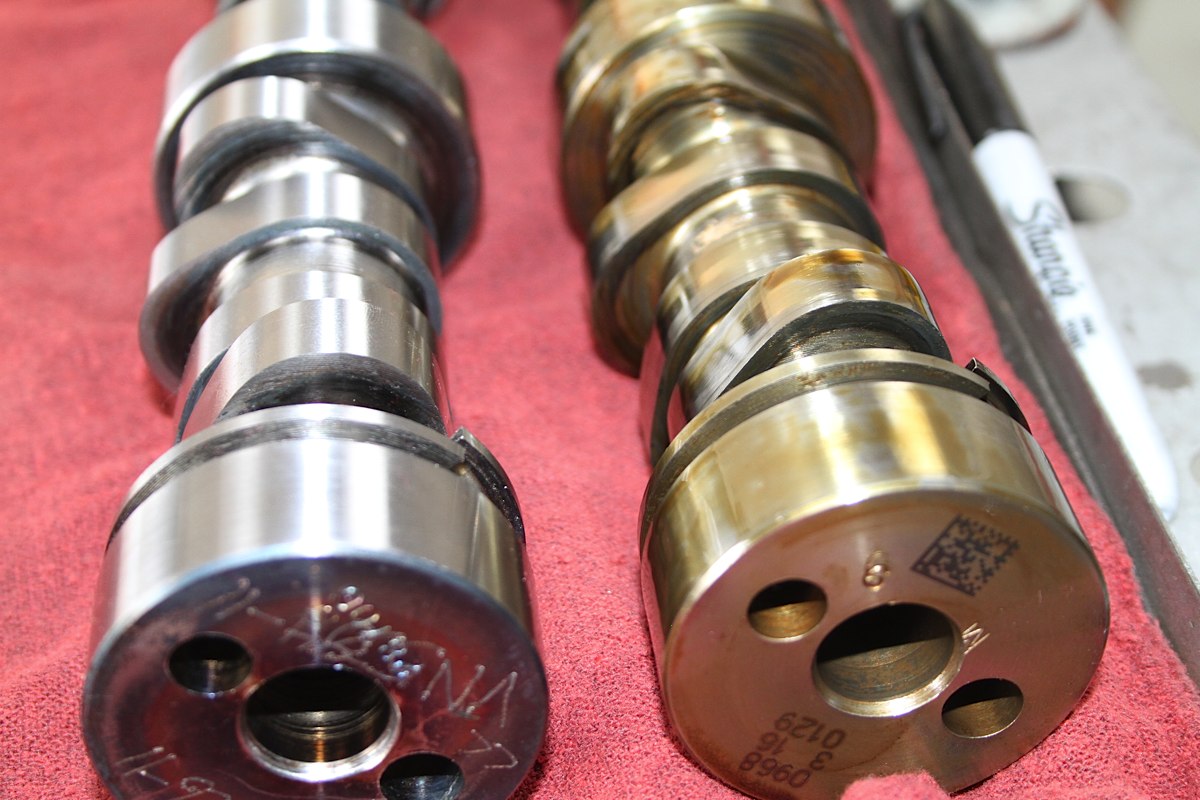 A side-by-side look at the stock cam (right) versus the new COMP cam shows there's a noticeable visual difference in lobe profiles.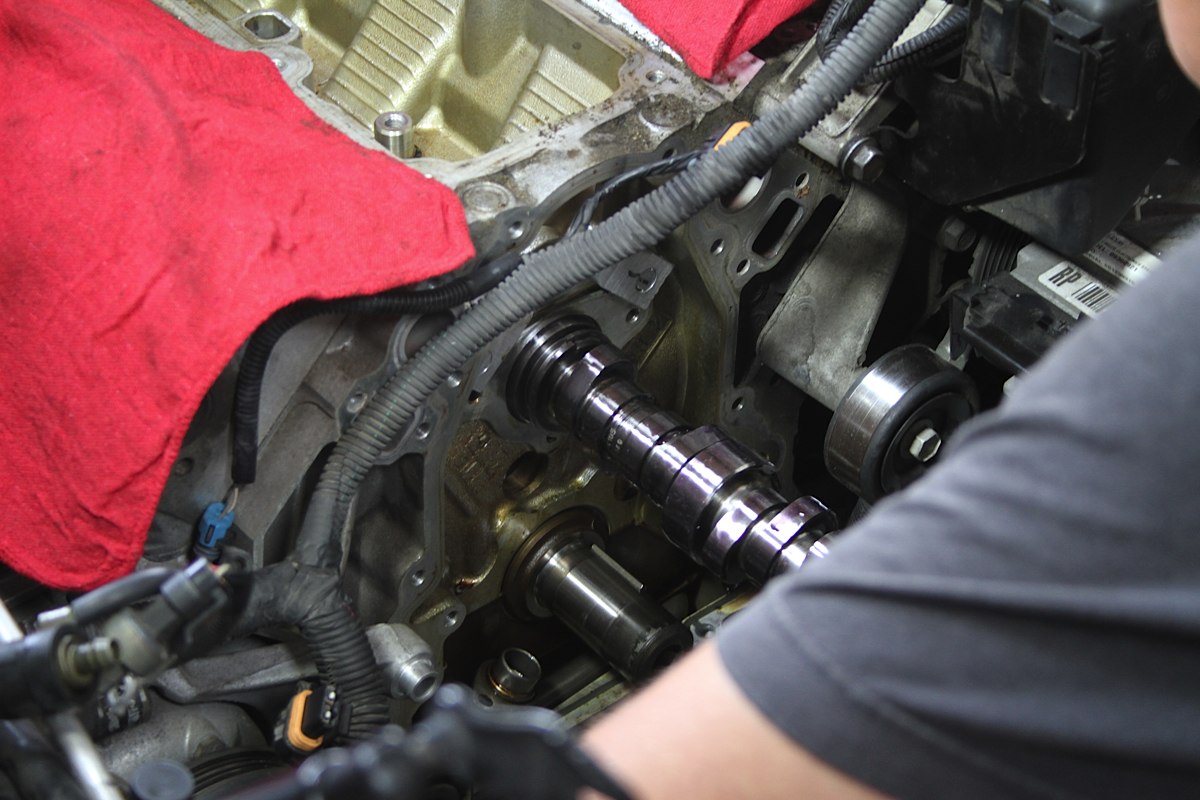 Properly pre-lubed, the new camshaft goes in…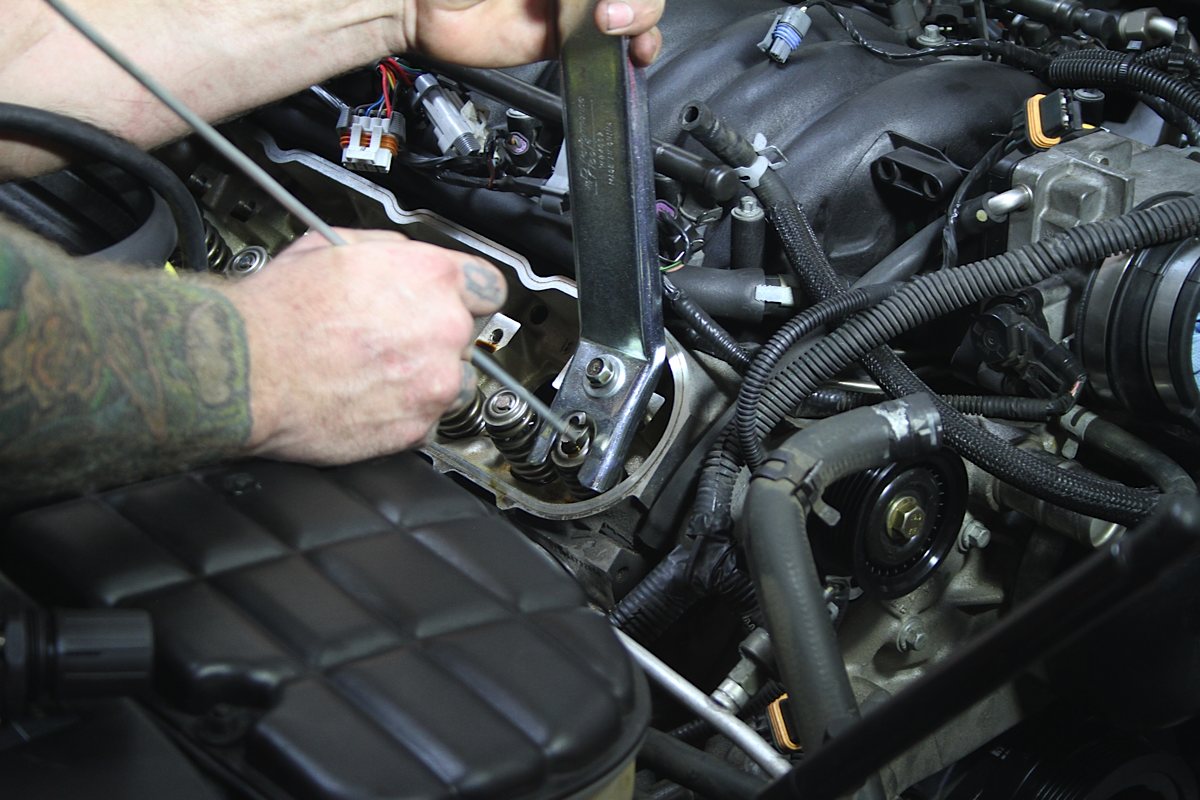 With the cam installed, it was time to swap out our valvesprings. An "air hold" keeps the valves seated while Sean removes the old springs and retainers, and replaces them with the new COMP pieces.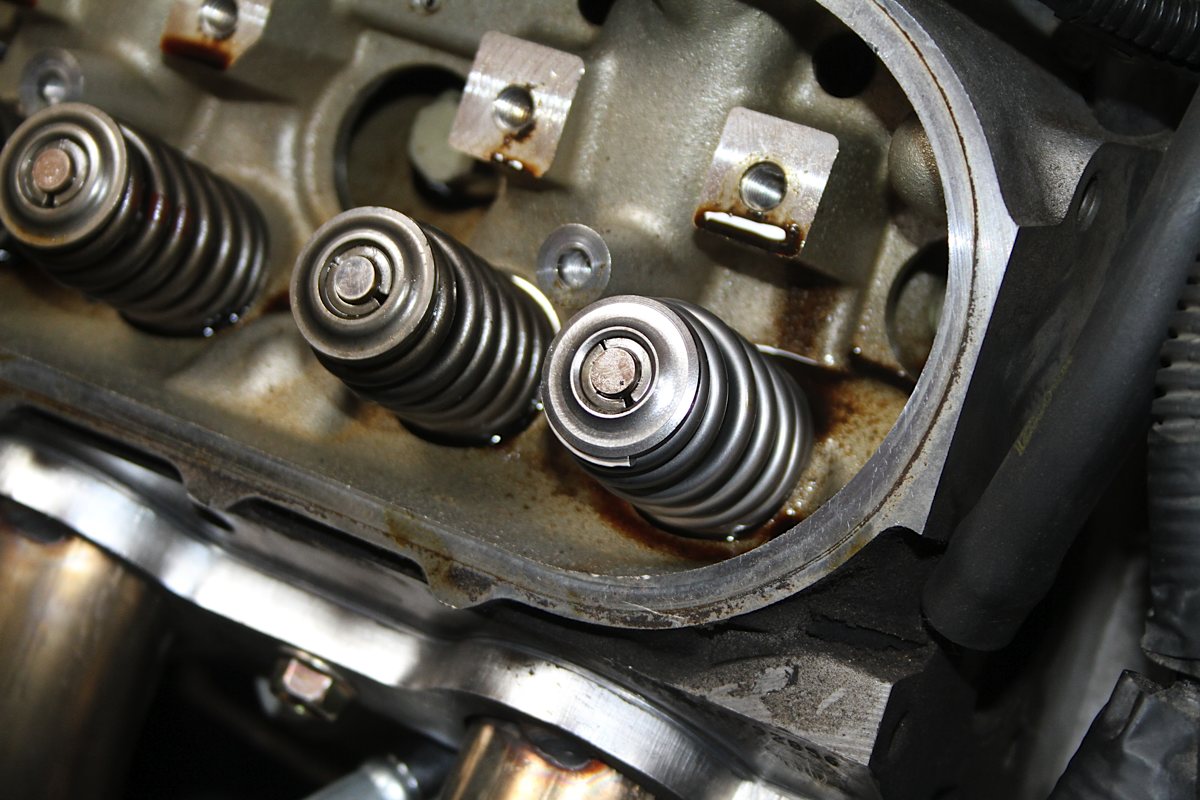 The new COMP spring on the right clearly shows its "beehive" shape. Not only do these springs support as much as .625″ lift – the unique shape eliminates harmonic vibration by killing the "resonant frequencies" that are inherent to any straight-wound spring.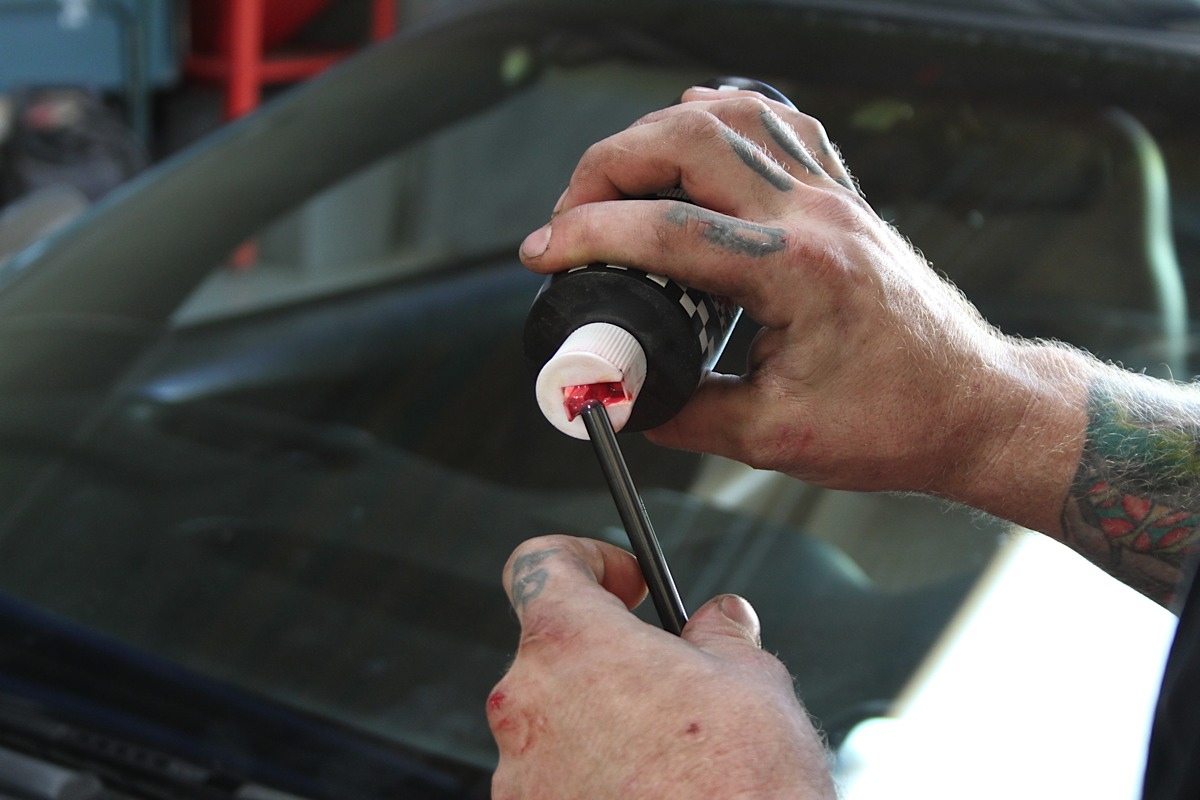 COMP's pushrods are a one-piece, 5/16″ diameter design with a .080″ wall thickness. With a little pre-lube applied, they dropped right in place of the stock pushrods.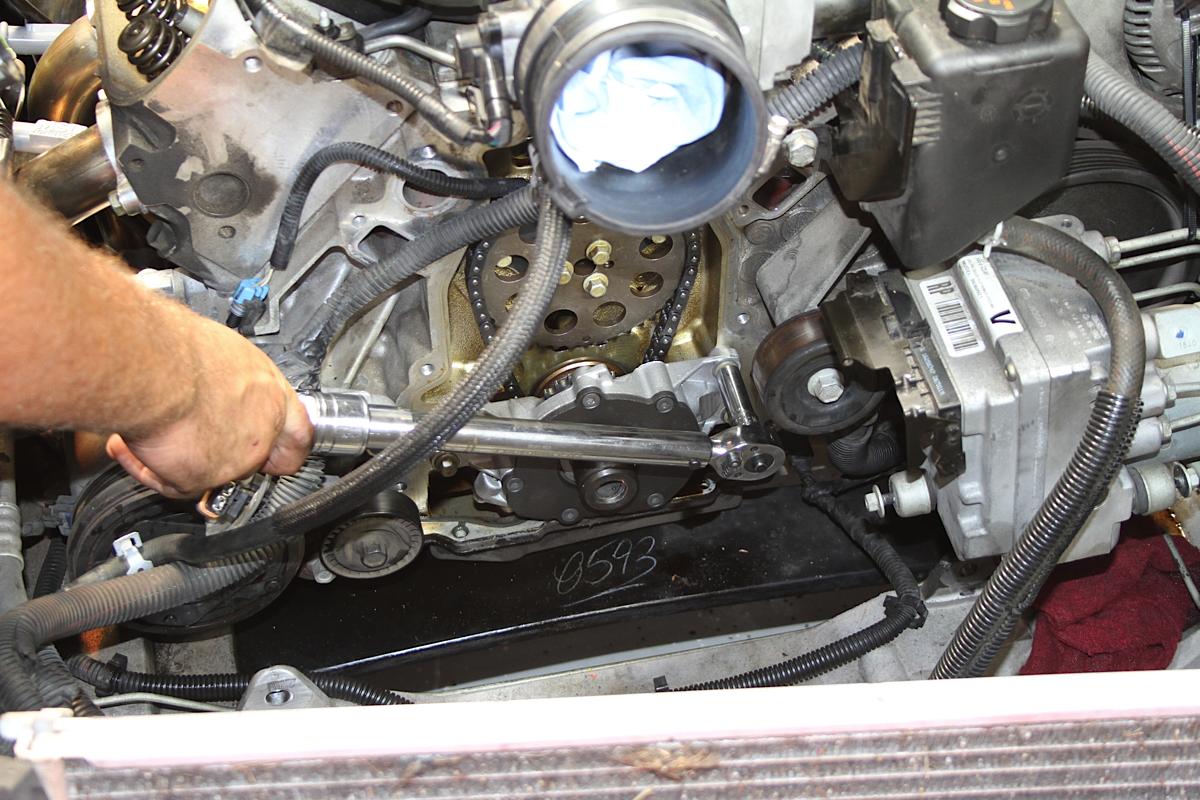 The last new component to go on was the SLP oil pump, then we buttoned up the front of the engine, reinstalled the damper, and put the steering rack, radiator, and accessory belt drive back on.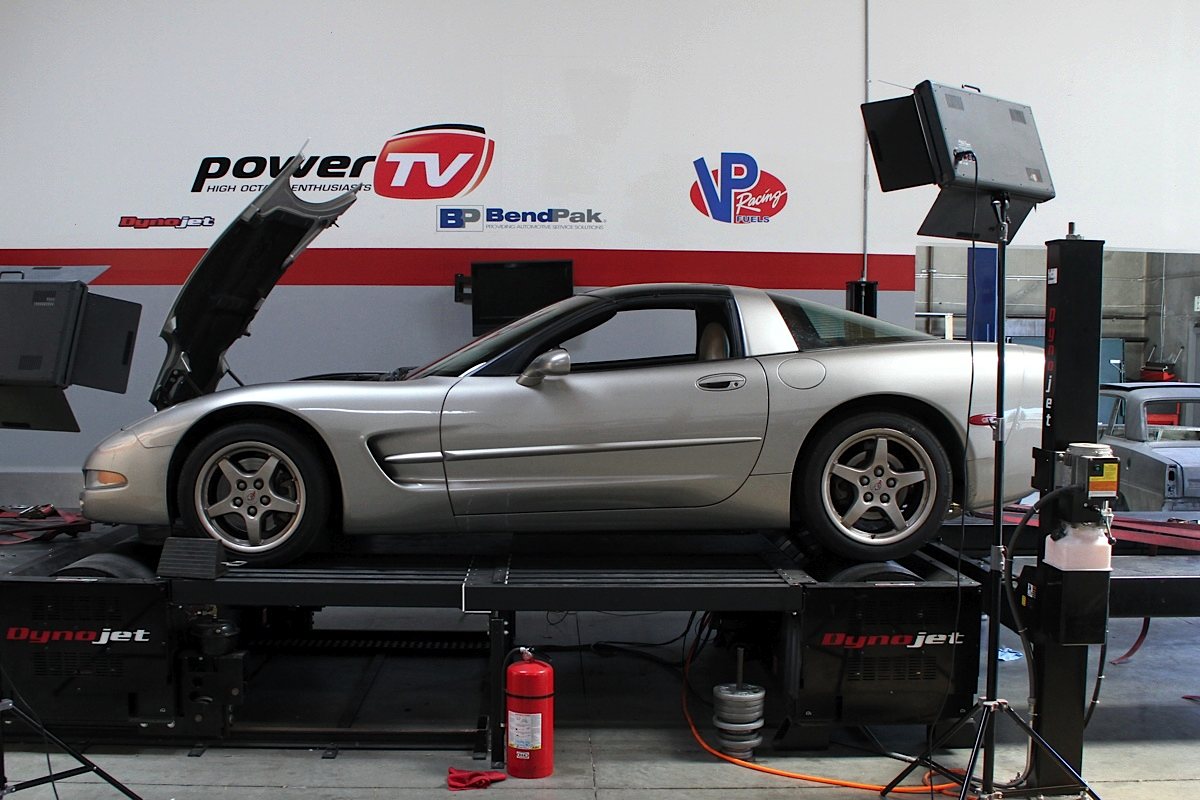 Finally, the work on Project Y2k is complete, and we are ready to find out how we did on our Dynojet chassis dyno…
Stage 4 Results
ProTip: If you are considering doing both the Stage 3 and Stage 4 upgrades, it's best to do them both at the same time so you only have to remove the steering rack to R&R the harmonic balancer once.
With the wrenching complete, it was time to test our progress, but there was one critical step we needed to accomplish before hitting the rollers again. The factory computer was never programmed to run the engine with this big of a cam, so trying to fire it up with the stock tune is a recipe for disappointment. But there is a solution already in hand – because the flash tuner provided in Stage 1 is also from COMP's FAST brand, it has provisions to tune for a bigger cam, with three levels of lift and duration beyond stock already stored in its memory. The third and most extreme tune matched our specs, so we reflashed the PCM and fired up the Corvette for the first time with the new bumpstick.
After checking for leaks and admiring the car's new rumble (and giving the computer a few minutes at idle to settle in and get up to temperature) we headed one slot over in the shop to the Dynojet to see what we had wrought. Three dyno pulls gave us an average of 385.37 horsepower and 372.54 pound feet to the rear wheels, a net gain of 31.22 ponies and 20.07 pounds compared to Stage 3, and a whopping 67.58/38.54 over our stock dyno pulls.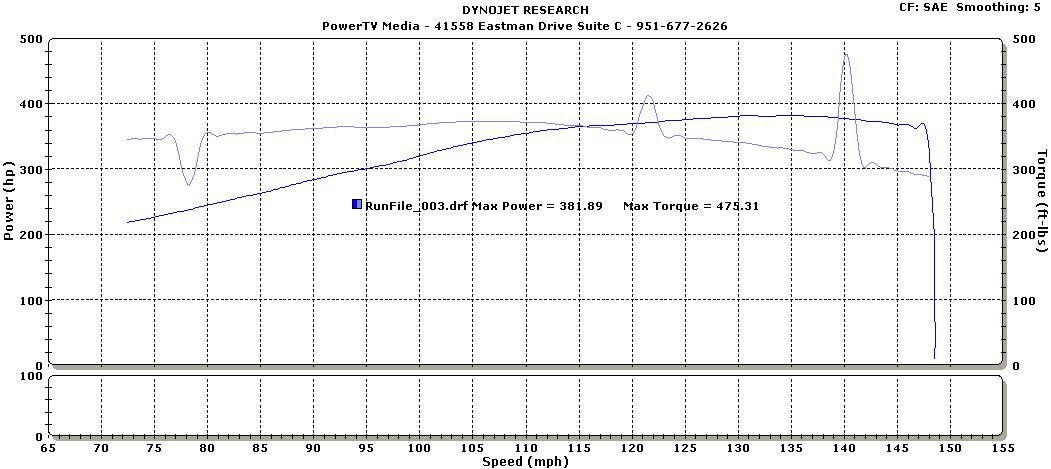 With our Stage 4 work complete, we had a total of 385 horsepower and 352 pound feet to the rear wheels.
Figuring 12-15% loss through the manual transmission and driveline, that means we are making something like 430-440 horsepower at the crank – more than a stock LS3 C6, with fewer cubes (and for less money total, even considering the purchase price of the car and the cost of the Stage 1-4 upgrades.) Of course, to prove the point we needed to make another dragstrip visit, and despite a flagging stock clutch that kept us from launching the car as hard as we might have (this car is no trailer queen, so we made sure we didn't break it too bad to drive home) we still managed to cut a 12.787 at 11.111 MPH in the quarter mile
Drag Results (Stock / Stage 4 / Net Gain)
60-Foot – 2.027 / 1.922 / .105
330 – 5.736 / 5.457 / .279
1/8 Mile – 8.751 / 8.312 / .439
MPH – 80.67 / 86.53 / 5.86
1000 – 11.335 / 10.764 / .571
1/4 Mile – 13.480 / 12.787 / .693
MPH – 105.43 / 111.11 / 5.68
On the road, our once-ordinary C5 is now something else entirely – if you want to turn heads at every stoplight, that unmistakeable cammed-up lope will certainly do it. The changes don't appreciably harm the car's drivability; it starts and putters around town just as well as it did when we bought it, but the new power is just a stab of the throttle away. Ongoing analysis of fuel economy shows we haven't taken a big hit there either, mostly thanks to the deep double-overdrive transmission that keeps revs and interior noise way down on the highway. Step on the go pedal, though, and the beefed-up LS1 roars to life.
Overall, we've achieved exactly what we hoped for with Corvette Central Performance's Stage 1-4 upgrades, taking what was good about the stock car and making it better. Corvette Central Performance's upgrade stages for the C5 provide a no-guesswork way to put some extra oomph in your Corvette, and should you decide to go the DIY route, their technical support is there to help guide you every step of the way.
In the coming months, we'll be continuing on with our improvements to Project Y2k, increasing handling and brake performance to compliment our new-found horsepower, so keep an eye out for future updates…