Whether prepping your Corvette to roll across the auction block or display at a show, cleaning the engine adds value. A spotless engine shows just how important and well maintained is your Corvette. Filthy engines are more apt to retain heat and make it difficult to detect small leaks. Dirt and dust cause pulleys and belts to squeak from undue wear. Worst of all, it just looks bad.
Since the 1997 and newer engines use one ignition coil per cylinder, they can be cleaned without worry of water damage. Ignition distributors can be troublesome during engine cleaning, even with early cars, and very troublesome with the 90-96 LT series engines.
This is very important: the engine must be at ambient temperature with no heat buildup. Don't start the engine for any length of time! Park the car overnight where the engine cleaning will take place. If the engine is even slightly warm, electronic components can condense moisture internally when cold water hits the surface.
All electrical components and connectors are weatherproof so direct water will not cause corrosion or damage. There is no need for a high pressure washer or steam cleaner in most cases. Steam cleaning is not a good idea because it will cause condensation. Pressure washers can force water into places it shouldn't be, making it difficult to remove. Water should only be directed at the engine block or cylinder heads.
Annual cleaning makes the procedure simple. A garden hose has enough pressure to safely remove any dirt, dust, and debris. While you are cleaning the engine and compartment, the radiator should be checked for debris. Radiator debris can be flushed out with the garden hose.
Keep things cool to avoid plastic part damage. Washing in the direct sunlight can discolor plastic covers if the cleaner dries on the pieces. Keep a water hose handy to rinse the exterior if any cleaning product gets on the paint.
If the underside of the hood is dirty, wash it first then rinse the exterior well. Apply cleaner to the engine and entire compartment. Wait approximately ten minutes before rinsing. Keep all areas wet with cleaner until rinsing is started.
We use Greased Lightning cleaner everywhere under the hood. Greased Lightning lifts the dirt and dust to limit hand rubbing or brushing. There aren't any coated components that will discolor so citric acid cleaners will work without causing damage.
We remove the engine covers and clean under them. Once everything is rinsed, compressed air should be used to blow off the water. Corrosion may begin if water is left under the engine covers.
Once the engine bay is cleaned you'll be proud to show it off at any show or cruise night. It makes a good impression on a potential buyer to see an engine that has been maintained properly.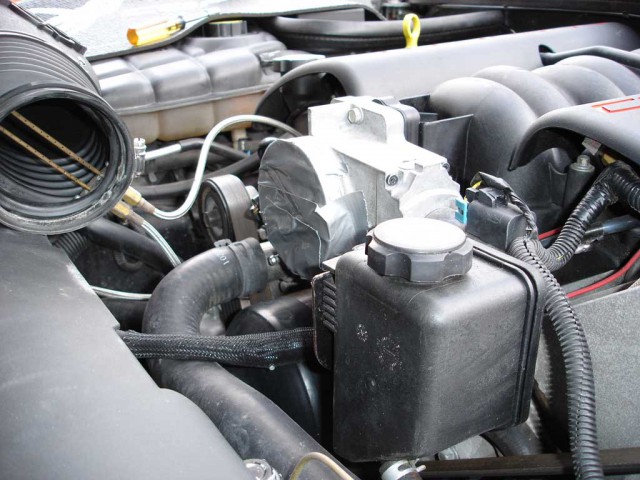 Remove air filter intake duct and cover throttle body opening with duct tape, for a thorough cleaning of the engine front. Check air filter element or service a high performance washable element. Remove air cleaner housing or cover opening to prevent water intrusion.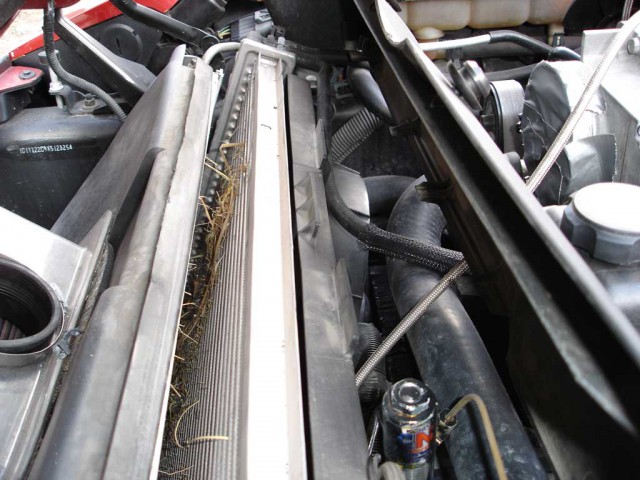 Removing the radiator cover is simple and allows better access to radiator and A/C condenser. Cover is affixed with two 10 millimeter hex head bolts on each side. Once removed, cover lifts straight up. You may be surprised by the debris built up on the radiator and condenser.

Remove plastic engine covers before applying cleaner. Spray entire engine with cleaner, including inner fenders and radiator area. If the sun is beating down on the engine it is easier and safer to clean in sections. Apply cleaner as many times as necessary; however, if the engine is wet, the cleaner won't be as effective.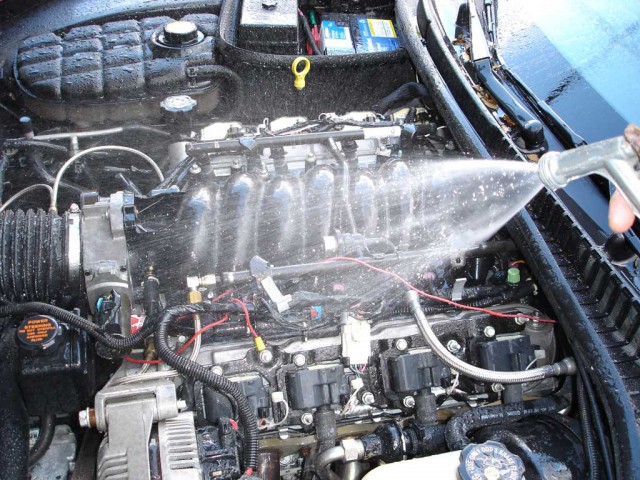 As you can see, we have no fear. Give the engine as much water as required to remove cleaner and dirt.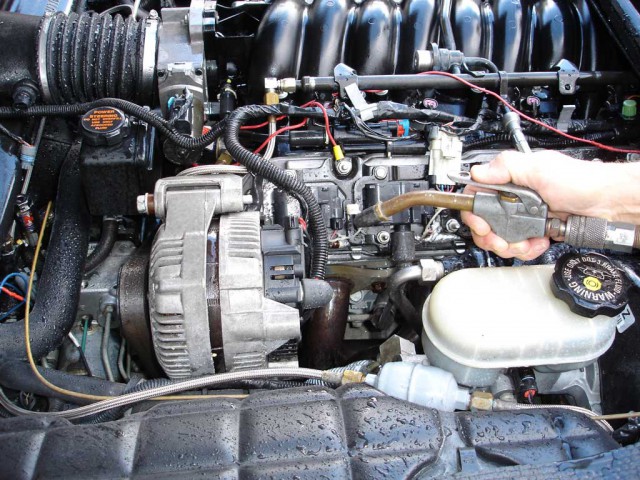 Use compressed air to blow water from the engine and compartment. Be sure to blow all the water out of the alternator before starting. A landscape blower will do a good job if compressed air is not available but it's difficult to direct into close areas.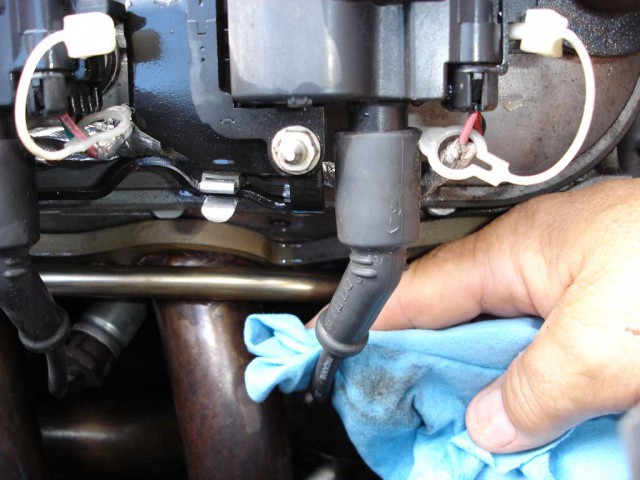 Once cleaning has been completed, apply spray silicone lubricant on plug wires. Spray silicone on a clean cloth and then wipe the wires. Silicone helps repel water and does a good job of cleaning plug wires.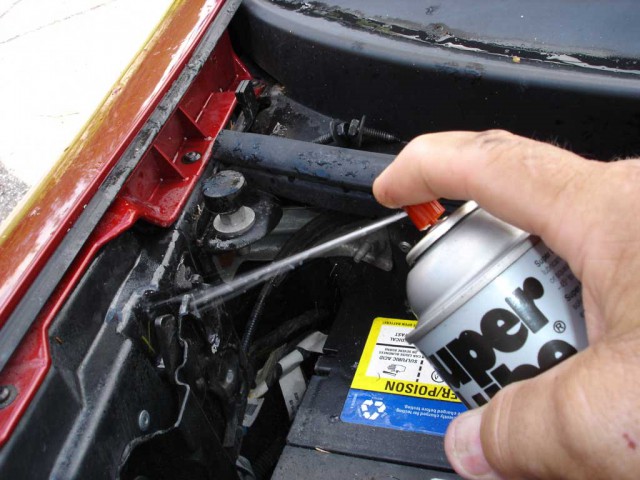 Finish by applying high temperature grease at the hood latches. Spray the hood hinges with lubricant. Super Lube multi-purpose synthetic spray lubricant sprays as a liquid but leaves a film of lubricant as it dries. LPS #1 is a similar product that works equally well.
Story and photos courtesy Chris Petris