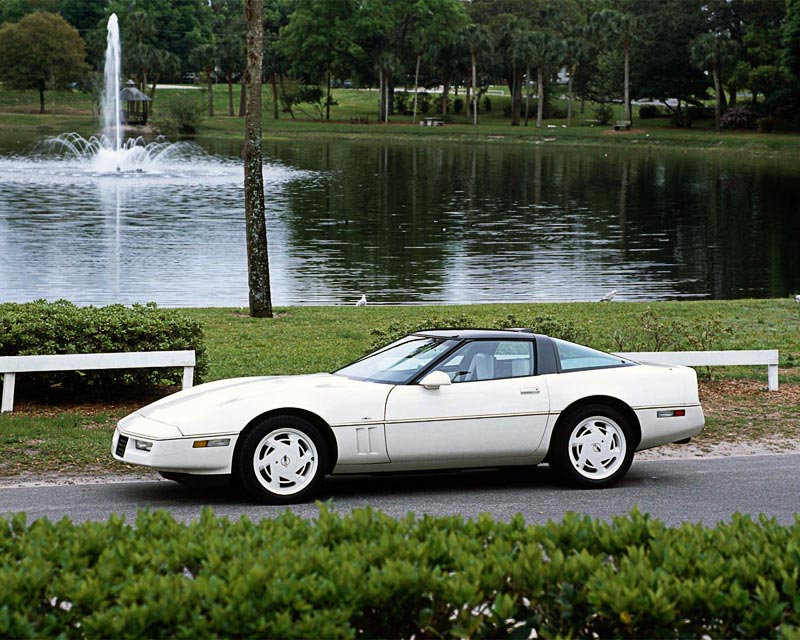 Next up in our Corvette Production Numbers series are the C4 cars.  By the time 1982 rolled around, the C3 Corvette was 14 years old and the chassis that it was based on dated back to 1963.  Needless to say, a lifetime for a chassis and body style.  The Corvette team at GM was well aware of this, and had been working feverishly on the next generation car.  Unfortunately, development and quality control issues prevented them from introducing the C4 Corvette until March of 1983, 6 months beyond the typical September new model introduction.  In short, no 1983 Corvettes were ever offered to the public; the C4 was introduced as a 1984 model.
As GM was still struggling with ever-increasing emissions regulations, the focus for early C4 Corvettes was on handling and chassis dynamics.  And they delivered, so much so that there are still many competitive C4's at sanctioned racing events across the country.  Right out of the box, the C4 was a capable corner carver, and when the Corvette team increased power substantially in 1992 with the second-generation LT1 (300HP), the Corvette was a force to be reckoned with.
Notable C4 Corvettes are the early models with the unique Doug Nash "4+3" overdrive manual transmissions, the 1988 35th Anniversary model (pictured), the incredible and highly anticipated ZR-1 supercars of 1990-95, and the Grand Sport and Collector Edition models from 1996, which sported a one-year only 330HP LT4.
| Model Year | Coupe | Convertible | ZR-1 | Total |
| --- | --- | --- | --- | --- |
| 1984 | 51547 | | | 51547 |
| 1985 | 39729 | | | 39729 |
| 1986 | 27794 | 7315 | | 35109 |
| 1987 | 20007 | 10625 | | 30632 |
| 1988 | 15382 | 7407 | | 22789 |
| 1989 | 16663 | 9749 | | 26412 |
| 1990 | 12967 | 7630 |  3049 | 23646 |
| 1991 | 12923 | 5672 |  2044 | 20639 |
| 1992 | 14102 | 5875 |  502 | 20479 |
| 1993 | 15450 | 5692 |  448 | 21590 |
| 1994 | 17536 | 5346 |  448 | 23330 |
| 1995 | 15323 | 4971 | 448 | 20742 |
| 1996 | 17167 | 4369 | | 21536 |