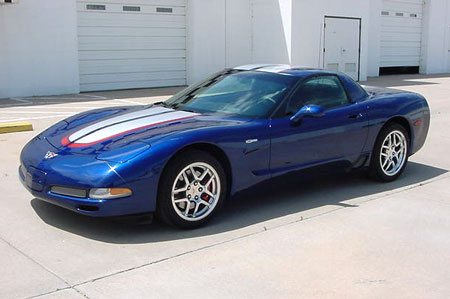 This week we're reviewing production numbers for the C5 Corvette, produced between 1997-2004. The development of this car and the engineers and stylists behind it are discussed in the book All Corvettes Are Red, a must-read for any C5 fan.
The C5 continued GM's mission to constantly improve every aspect of performance, quality and functionality in its halo sports car. The 5th generation marked the return of three distinct body styles: coupe, convertible and hard top (aka fixed roof coupe), the latter being the basis for the Z06 track terror that was introduced in 2001. The Corvette team was given a clean slate to design the new car, resulting in innovations like a rear mounted transaxle for better weight distribution, different diameter wheels (front/rear) and, for the first time since 1962, a trunk in the convertible and hardtop that could easily accommodate a full size golf club bag. Last but not least, the LS series of engines made their debut in the C5's, ranging from 345HP in the base model to 405HP in the later Z06 models.
Notable C5 Corvettes include the 50th Anniversary model, the 1998 Indianapolis 500 Pace Car, the Fixed Roof Coupe of 1999-2000 and 24 Hours of LeMans Commemorative Edition (pictured).
| Model Year | Coupe | Convertible | Hardtop/Z06 | Total |
| --- | --- | --- | --- | --- |
| 1997 | 9752 | | | 9752 |
| 1998 | 19235 | 11849 | | 31084 |
| 1999 | 18078 | 11161 | 4031 | 33270 |
| 2000 | 18113 | 13479 | 2090 | 33682 |
| 2001 | 15681 | 14173 | 5773 | 35627 |
| 2002 | 14760 | 12710 | 8297 | 35767 |
| 2003 | 12812 | 14022 | 8635 | 35469 |
| 2004 | 16165 | 12216 | 5683 | 34064 |
TOTAL 248,715