Assembling the perfect valve train combination is challenging for even the most seasoned engine builders because there are so many variables involved. One area of the valve train that many people have difficulty with is selecting the perfect rocker arms. With a wide variety of options available, it can be hard to know which rocker is the best choice for your application. "Which rocker is right for me?" is a question that the technicians at COMP Cams® are asked every day.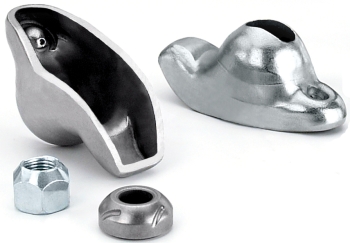 The three most important factors in deciding which rocker arm is right for your application are valve spring diameter (pressure), RPM range and valve lift. As these factors increase, you will need a stronger rocker arm because the stability and durability of your valve train depend on perfectly matched components. COMP Cams® Engine Builder Technicians pay close attention to valve lift when deciding which rockers an application requires.
For stock replacement rockers in applications where valve lift has not been increased, COMP Cams® carries High Energy™ Steel Rocker Arms. Although they feature a long slot for higher than stock lift camshafts, these rockers are engineered to handle the demands of only very mildly upgraded valve trains. They are best suited for eliminating the noise and slop associated with worn stock rockers.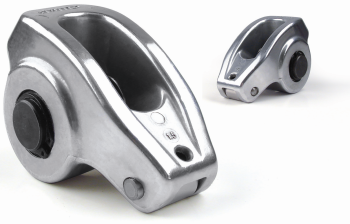 When more aggressive upgrades are made to the valve train, COMP® technicians recommend Magnum Rocker Arms. As the ultimate in street performance, these rockers are designed to last longer and help the serious performance enthusiast make even more power in any application with less than 350 pounds of open spring pressure.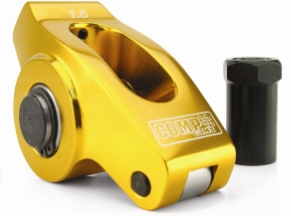 For bulletproof reliability in any application using less than .550″ lift, COMP Cams® designed the new High Energy™ Die Cast Aluminum Roller Rocker Arms. Lightweight but durable, they are great for street and moderate race use. Featuring a die cast body constructed of lightweight aluminum, High Energy™ Die Cast Rockers utilize a needle bearing fulcrum and roller tip to decrease friction, thereby improving response and horsepower.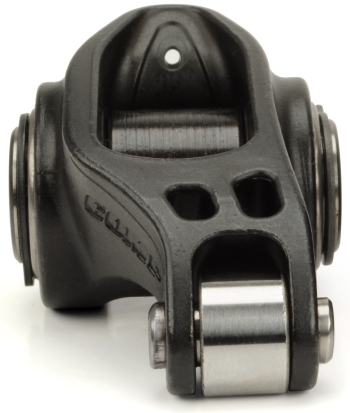 When valve lift is between .550″ and .700″, it's time to step up to an even more durable option. Ultra-Gold™ Roller Rocker Arms are made from a durable, lightweight aluminum alloy that is perfect for performance street and race engines. Precision-sorted trunion bearings, multiple oil passages and unrivaled ratio accuracy make Ultra-Gold™ rockers a premium aluminum rocker alternative that won't break the bank.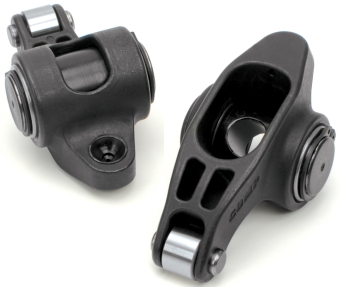 An even more durable alternative for high performance street and race applications is the Ultra Pro Magnum™ Rocker Arm. With a nearly unbreakable investment cast 8650 chromemoly body, these rockers use an arched, web-like design to increase strength and rigidity while reducing the moment of inertia. Built to handle up to 7,000 RPM, these unique rockers feature hardened roller tips, an oversized trunion and precision-sorted needle bearings that easily stand up to the abuse of the high load valve springs needed to handle increased lift and RPM.

Once lift goes above .700″, it's time to step up again. Depending on RPM range, there are two options. If your high lift application stays below 7,500 RPM, the new Ultra Pro Magnum™ XD Rocker Arms are a great option. As the next design evolution in steel stud mount rocker technology, these extreme duty rockers are engineered specifically to handle the abuse of endurance, circle track and drag race applications. Made from ultra-durable 8650 Steel, these rockers use precision-sorted needle bearings and hardened roller tips to better distribute the load and reduce wear.
For applications turning more than 7,500 RPM, shaft mount rockers are the only recommended option. At this point, stud mounted rockers can no longer handle the extreme stress of your engine. COMP Cams® Shaft Mount Rocker Arms are constructed with durable aluminum rocker bodies attached to an ultra-rigid steel shaft. This system is more durable than stud mounted rockers and offers more stability than any other option on the market. Shaft mount rockers are also the most efficient way to transfer the power of the cam to the valve, making them perfect for radically prepared engines used in extreme racing applications.
You will never hurt your setup by using too big (strong) of a rocker. However, if you install a rocker meant to handle .550″ lift and 6,500 RPM in an application with .700″ lift turning 8,500 RPM for example, the rockers will not be able to handle the stress. A broken rocker arm can cause catastrophic engine damage. When in doubt, always go with the more durable option.
Originally Posted on CPG Nation Forum