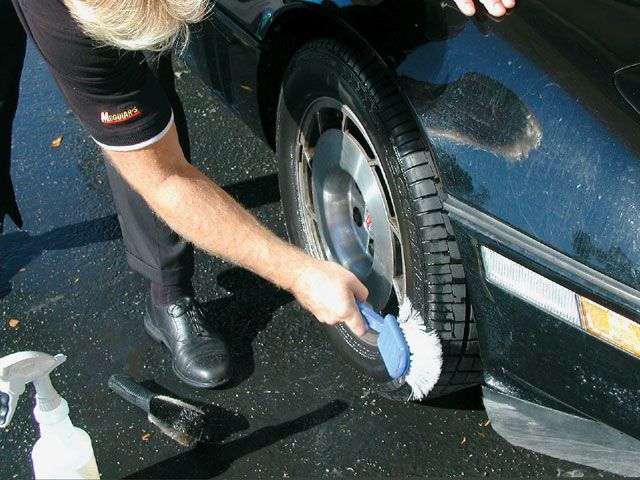 It's cold outside. Why not spend some time with your Corvette, getting reacquainted? One of the most neglected areas when it comes to cleaning is the inside of the wheels. Disc brake dust causes corrosion and grease from blown ball joint boots on 1963-1996 Corvettes can affect wheel balance.
Disc brake pads have metallic compounds and fibers that mix with moisture to corrode steel or aluminum wheels. The best policy is to clean the area at least once a year, and what better time than now while your Corvette is waiting out the winter. A good scrubbing with a stiff bristle brush and car wash soap works well for the first attempt. A second attempt is usually required to remove the build-up of corrosion and brake dust. Use our Wheel Wash for uncoated wheels to remove the imbedded brake dust particles and corrosion.
Large deposits of grease on the inner wheel area attract road dirt and debris, which can affect wheel balance–after all, we balance our wheel/tire assembly within 1/8-1/4 ounce of accuracy. 1984-1996 Corvettes are affected with blown ball joint boots more so than earlier Corvettes because the ball joint is closer to the wheels. The upside to the grease coating on the wheels is that they usually aren't as corroded and are easier to clean. The downside is that the ball joint boots should be replaced to avoid inner wheel grease and water intrusion into the ball joint itself. 1997-2007 Corvettes have no grease fittings so they stay relatively clean from grease deposits.
The grease can be cleaned up with mineral spirits or a citrus based cleaner, then in most cases, the wheel wash is required to brighten things up. We don't recommend leaving the wheel wash on for long periods of time or the inside of the wheel will have a blackened look. The same goes for any wheel wash that dribbles out onto the front of the wheel; streaking can occur if the cleaner stays on for too long.
Once the wheels are cleaned, a couple of coatings of Meguiar's cleaner wax will get any residual brake dust off and keep the wheel slick inside. Keeping the inside of your wheels clean is good for many reasons: corrosion damage will be minimal, and the corrosive dust won't end up on the outer portion of the wheels, which could eventually require you to send your wheels out for major wheel refinishing. Steel wheels covering disc brakes will also benefit from an annual cleaning and waxing.
This article was written by Chris Petris for Corvette Central.