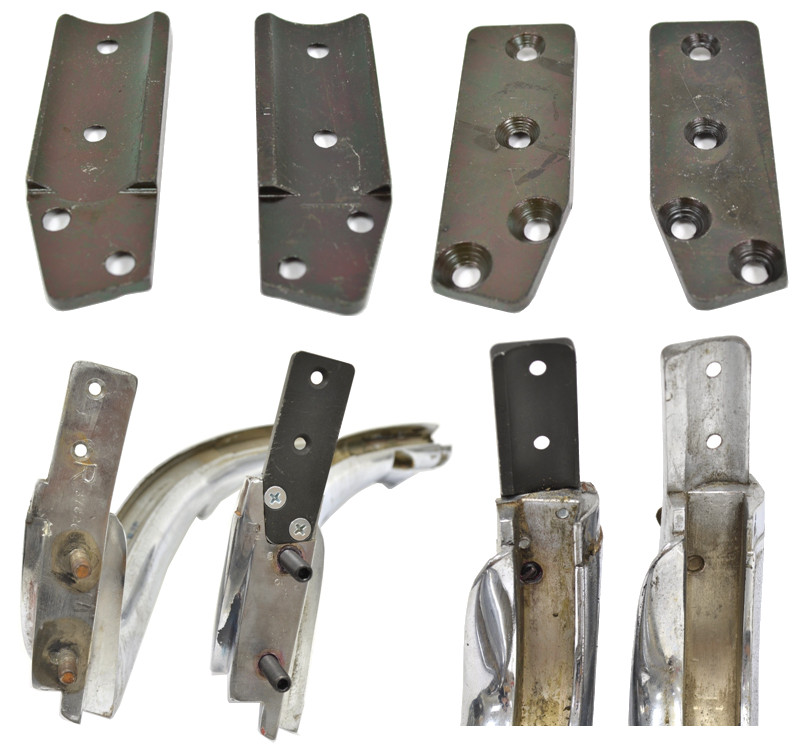 Many of our 1956 to 1962 Corvette customers report a noticeable vibration or rocking at the base of their windshield.  More frequently than not,  the windshield mounting posts are snapped off.  Over the years, many of these posts have been subjected to questionable repair work, with shims, metal strips and welding being employed to varying degrees of success.  In the mid-1980's, Corvette Central developed a permanent fix for this issue by designing a machining operation which allows the installation of steel tabs that are much more resilient than the originals.  Follow along as we describe the post variations, breaks, and solutions to windshield posts.
There are two variations of  windshield frame posts.  The 1956-58 version has a square notch relief for the door post with the upper window stop (Corvette Central part number 281009).  The 1959-62 version has an angled notch to allow for the later style door weatherstrip, which features a built-in stop and continues over the door post (Corvette Central part number 631010).

Warning: It is very important to have the door posts match up to the frame post.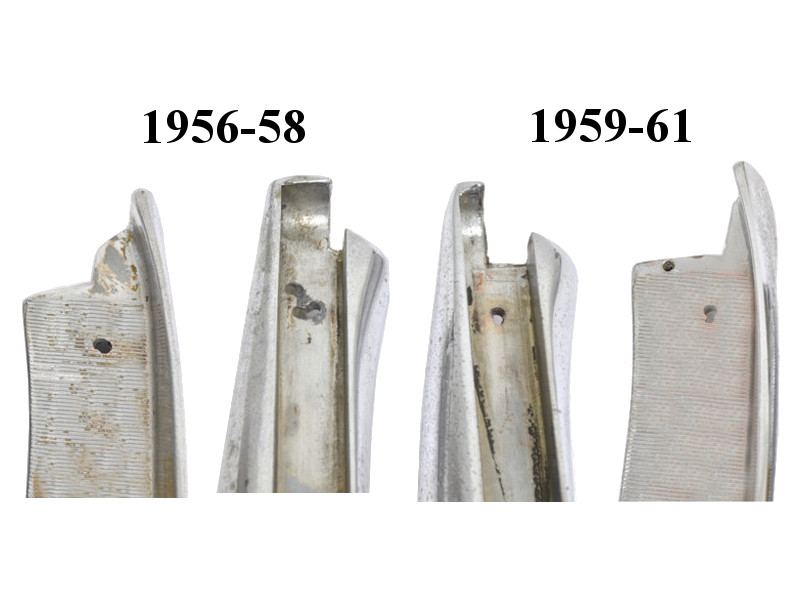 Above: 1956-58 and 1959-61 door posts.  Unlike these, very late 1961 and 1962 door posts had a smooth surface in the weatherstrip mounting area.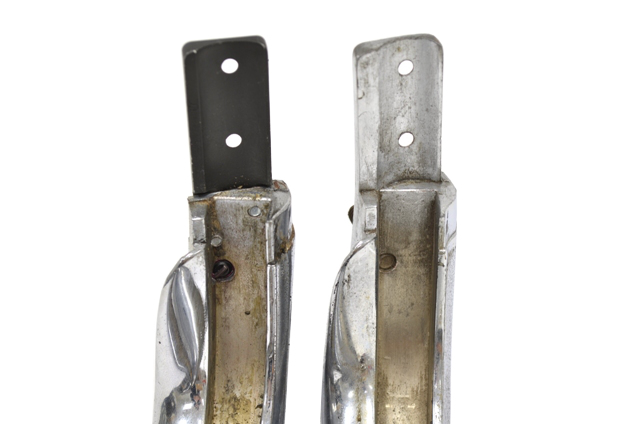 We are speculating that some of our C1 customers have not seen a windshield post with an intact tab.  It is pictured on the right, with a modified version on the left.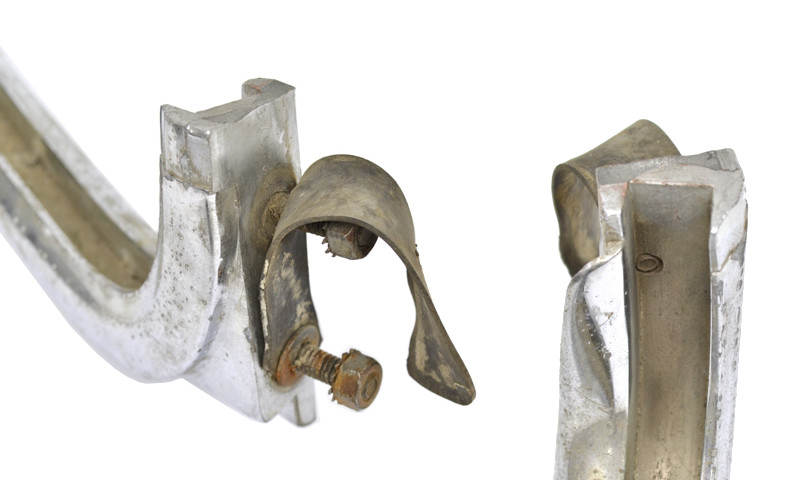 This image is typical of the clean break we see on most posts.  It is very common to see one or two 5/16″ SAE washers on the rear stud location.  They are being used as a shim to force the upper part of the frame forward.  It's highly likely that the washers helped to break the tabs.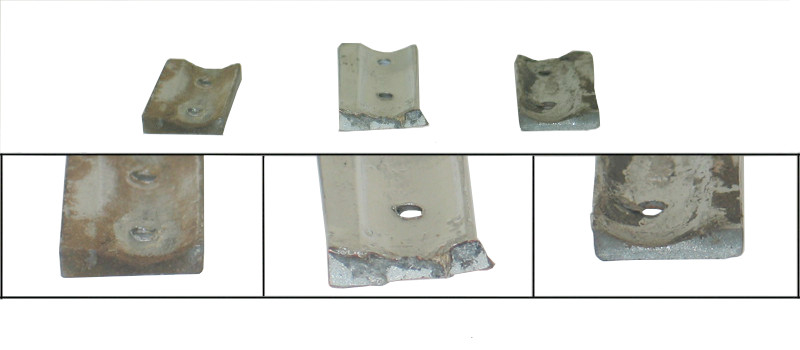 Pictured are some examples of broken tabs.  From left to right:
Left: It's obvious that this post was in use for years with a broken tab.
Middle: An attempted weld.  Welds like these actually damage the post and compromise the repair.
Right: A clean break.  Note: the dark material is an indication of an older fracture.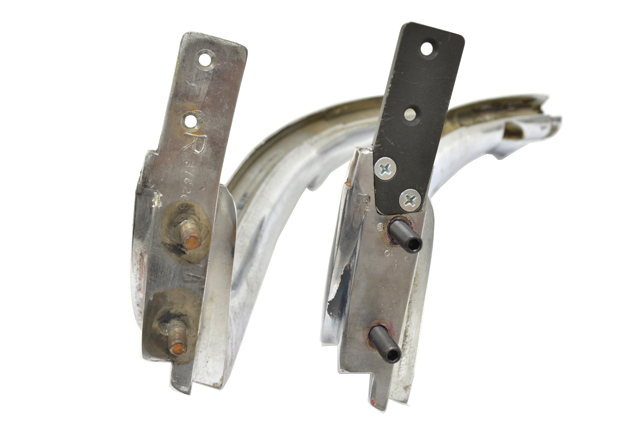 Notice that these are right hand posts.  There are many more right hand posts that are intact.  The reason for this is that GM sold them (under part number 3762680) for many years after the left hand versions had long since disappeared.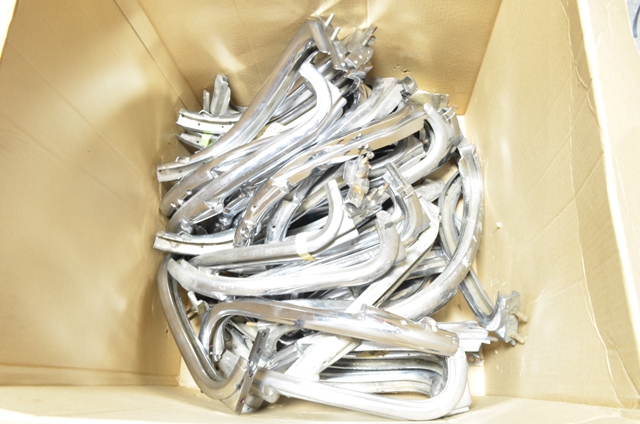 Above: We have a box of left and right hand posts.  Contact us if you need a pair.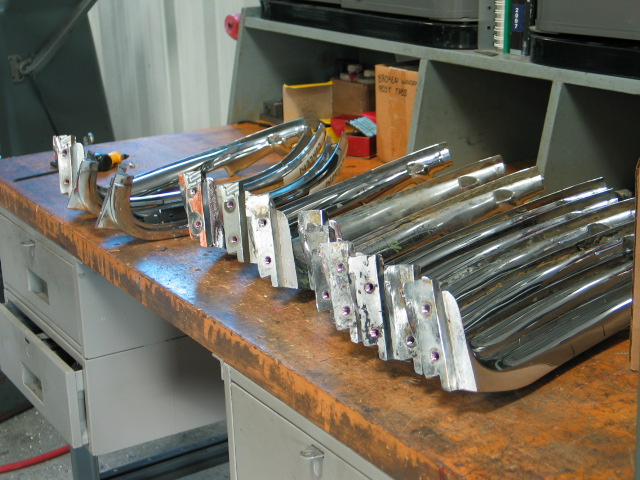 This is what our windshield post machining station looks like on Monday morning.  We run the posts every Monday for shipment on Tuesday.  If you look closely, you can the posts already have helicoils installed (visible by their reddish tint).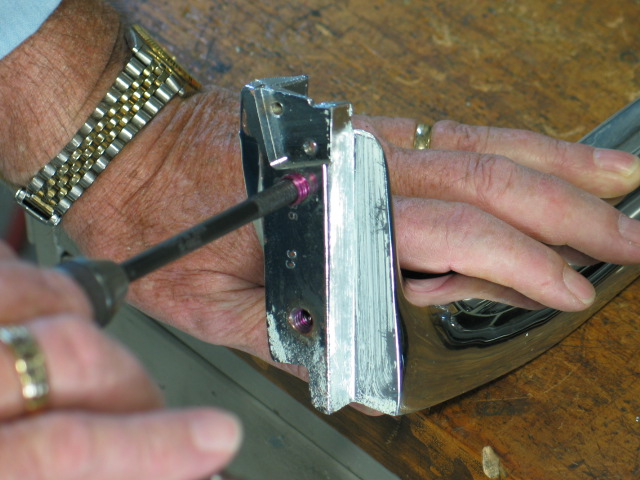 Pictured above: installing helicoils.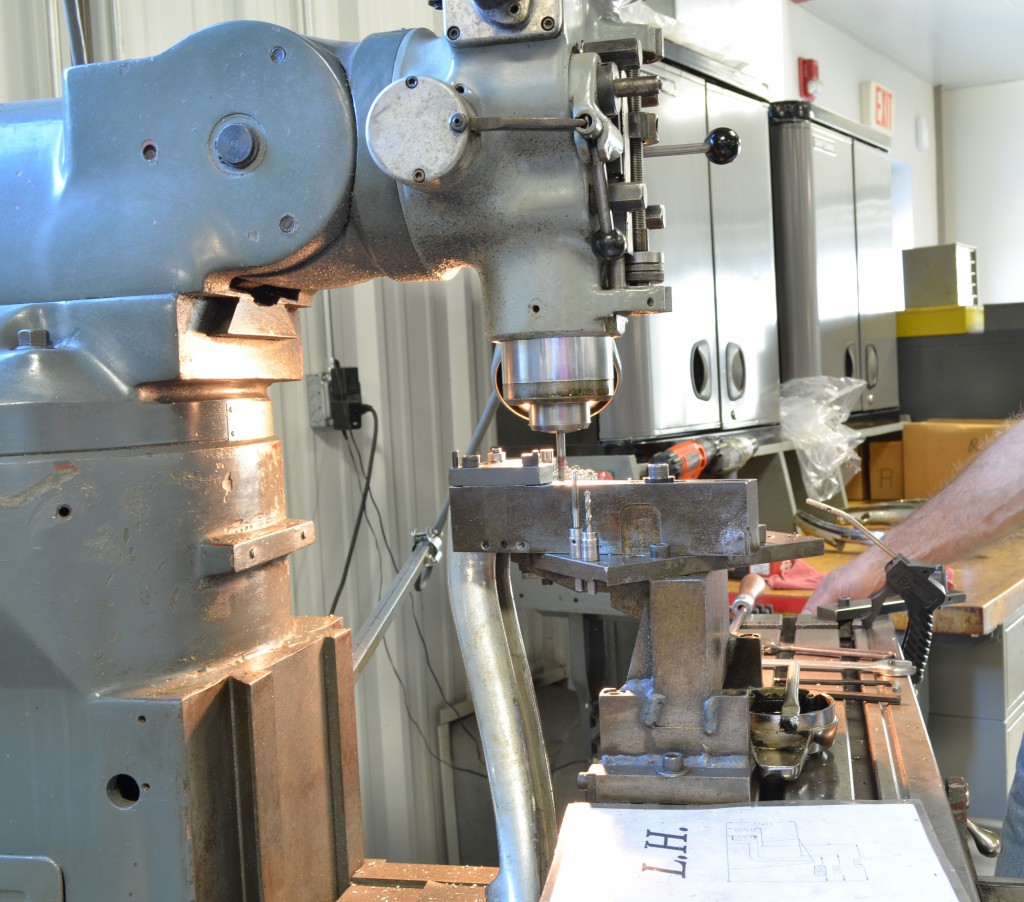 This machine, called a Bridgeport, has had this Corvette Central designed and developed fixture on it since 1983.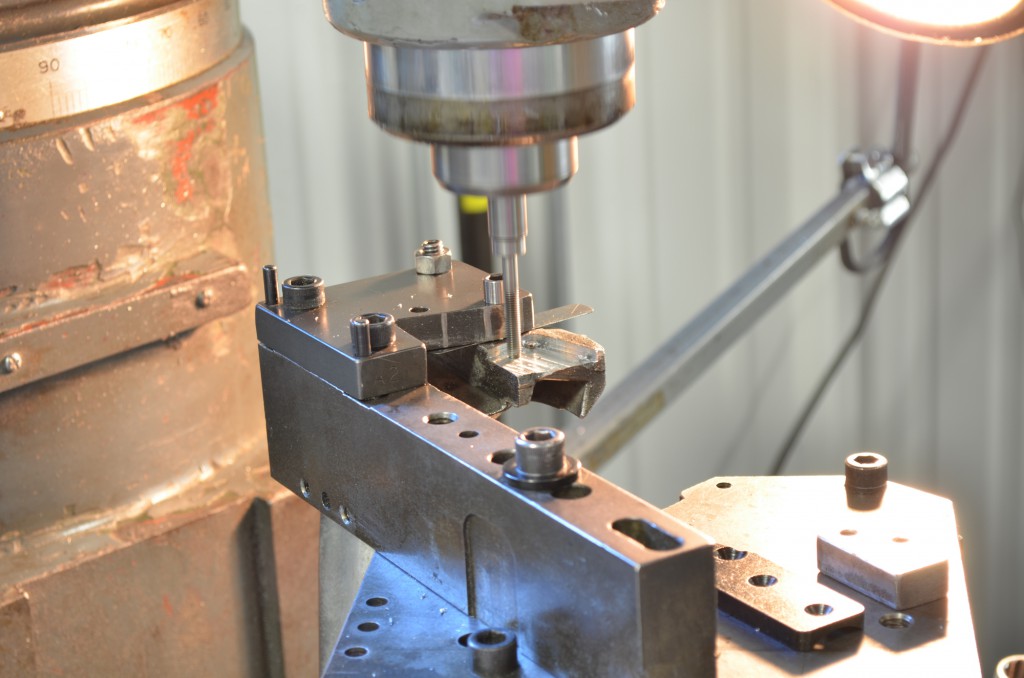 This fixture was designed to pivot from the right hand to the left hand by removing an Allen bolt (seen in foreground) and swinging it to a second location.  In the photo, the mounting hole for the tab is being tapped.  This fixture works the same on 1953-55 posts.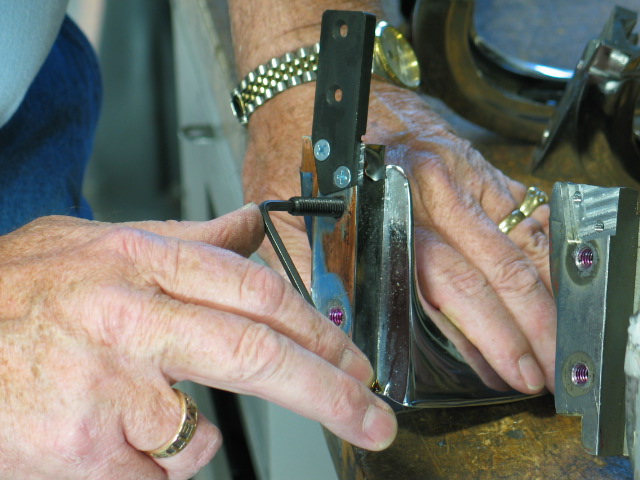 When installing the studs, you will notice the helicoil threads are fairly tight.  The reason for this is, when initially installed, the pictured stud actually sets the helicoil in place.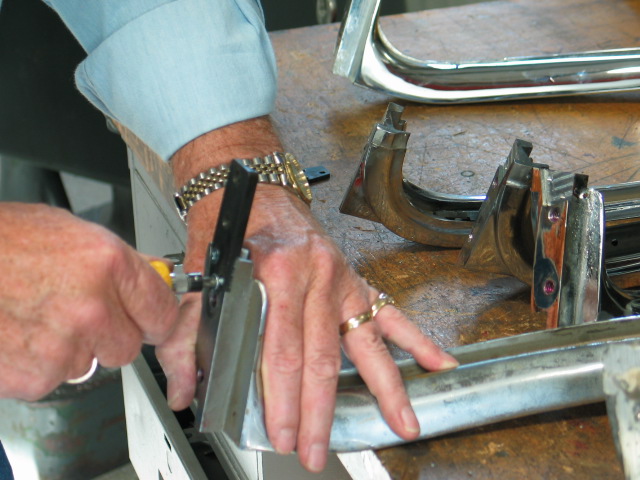 Mounting the new steel tab.  The tabs start life as a 1/4″ thick laser cut blank.  They are machined in our CNC department in  three separate processes.  Corvette Central uses approximately 250 to 300 of these tabs (pictured below) per year.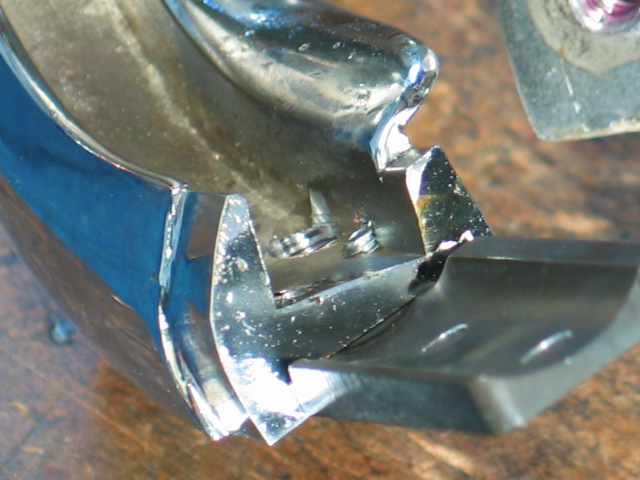 Our windshield post repair service can be located as part number 411040 (available for left and right side applications).  The tab mounting screw will protrude a bit after tab installation.  The exposed screw should be ground away (a 4″ cut off wheel disk works well for this task).