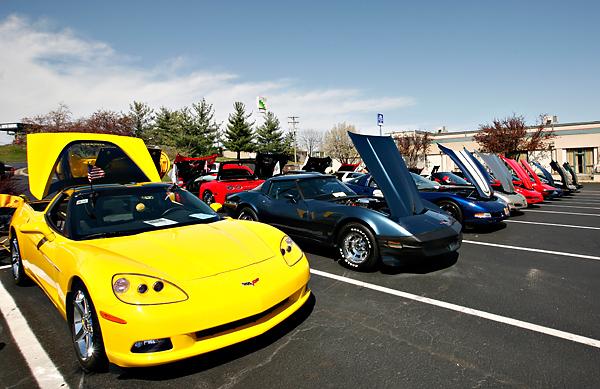 People read and witness Corvette judging at shows and wonder in particular if a certain part that is not original or NOS will be considered "correct".  While there are many ways to judge a car, most often a customer is concerned about either Bloomington Gold or the NCRS (National Corvette Restorers Society) style judging.  Even though these organizations are slightly different, their goals are basically the same: evaluating a car based on one simple criteria:  does the car in front of them look like it did the day it rolled off the assembly line or Chevrolet dealer lot?
This article will address restored cars, as both of the aforementioned organizations have judging criteria for unrestored vehicles ("survivors") and other groups like the NCCC (National Council of Corvette Clubs) have modified and custom classes as well.
When a car is judged, it begins with a perfect score (actually several thousand points) in each of four categories: Interior, Exterior, Engine and Chassis, plus an additional operations check (everything needs to work, e.g. lights, turn signals, radio, etc.).  It is assumed that the car is in the same condition as it was when it left the factory, and only receives deductions in points when something is not up to that standard.  Bloomington Gold utilizes one judge for each category, while NCRS has two.  To aid the judges in their evaluation of each part, Bloomington Gold established the FDICC valuation method, and the NCRS adopted a later version.  With dozens of parts to inspect, judges use the FDICC method to assess each.  It is:
F: Finish
D: Date Code
I: Installation
C: Completeness
C: Configuration
Armed with this criterion, each part is evaluated in two categories: originality and condition.  An original part will receive no deduction if it passes the scrutiny of the judge, but it could lose points for condition if it is like new.  Conversely, an inaccurate reproduction part might receive a deduction for originality, but receive all of the condition points.  Originality has a greater value than condition, so generally it is better to have a slightly aged original part than to have a brand new part that is not accurate.
Judges use other terms or evaluation processes like "easily detectable", "bracketing", and most important, "typical factory production" as they assess each and every piece of a car.  The judging process happens pretty quickly.  Bloomington Gold judges are encouraged to take only 36 minutes to judge each car, while the NCRS will take about an hour.  The bottom line in either case is that when the judging process is completed, the value of a car can be significantly increased if it achieves the top levels of the process by either organization.  Those levels are:
Bloomington Gold: *Gold Certified  *Silver Certified  *Bronze Certified
NCRS:  *Top Flight  *Second Flight  *Third Flight
It is also helpful for you to know that if a car owner does not reach the level they desire in the judging process, they can take their car home, attempt to correct items the judges found to be not typical factory production, and bring it back.  In the case of Bloomington Gold, judging only happens once a year.  The NCRS, however, has a three-level process of chapter, regional and national judging.  While there is only one national event, there are about 10 regionals, and dozens of chapter events.  The national judging is more like Bloomington Gold process, as the level of judging expertise is at it's highest level for all cars.  What that means is that it is possible to get one score at a small NCRS chapter meet, but not do as well at the national level.