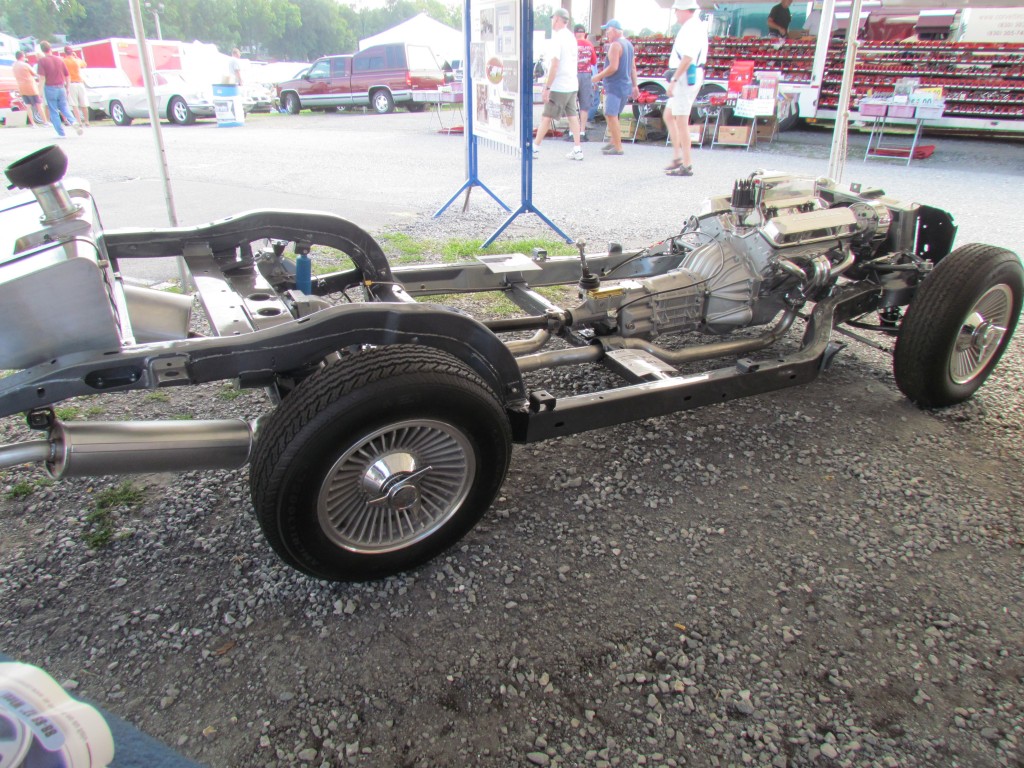 When the decision was made to start a restoration effort on our 1963 split window coupe, the chassis was one of the primary concerns.  As confirmed by Petris Enterprises (Corvette Central Project Split Mod: Part I), the original frame was severely rotted, to the point of being held together by the body near the rear axle.  However, the birdcage, interior and body were all worthy candidates for restoration, and the decision was made to search for a suitable chassis for the Split Mod.

Enter Impact Restorations of Grand Rapids, MI.  Impact specializes in Corvette restoration and repair, and has a dedicated chassis jig for 1963-82 applications.  Corvette Central and Impact Restorations have a long history together, and happen to be located relatively close to each other in Western Michigan.  A few conversations with Impact's Roger Gress took place, and ultimately a chassis for Project Split Mod was identified.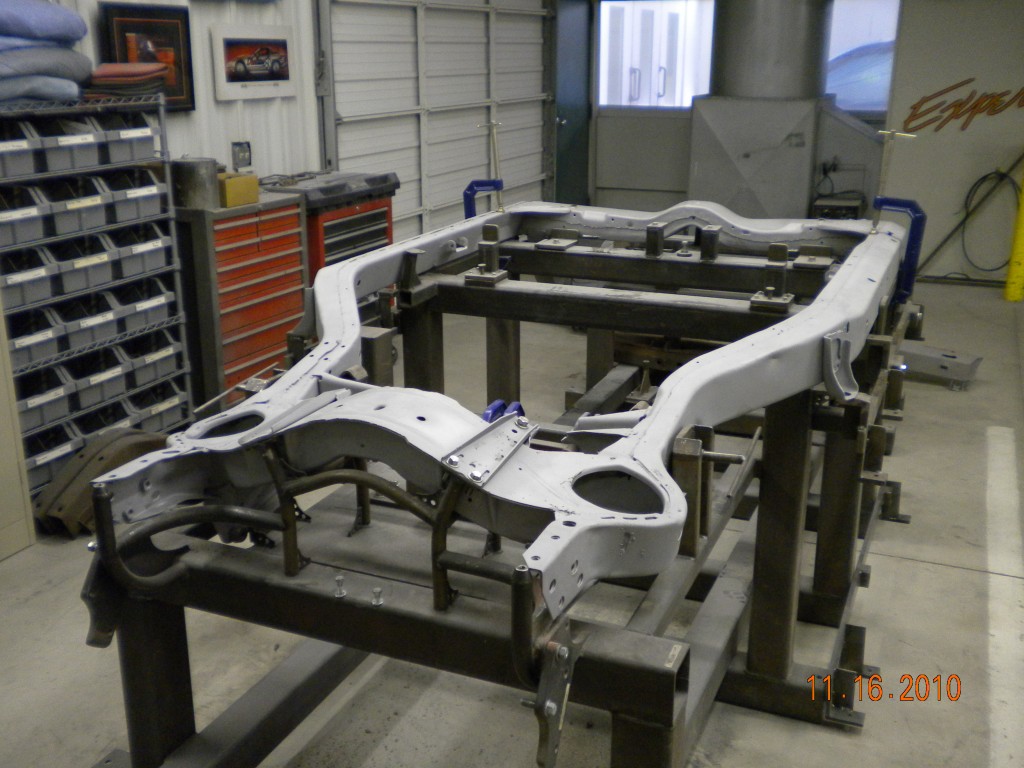 The frame in question is from 1975. As is commonly known, the C2 chassis is the basis for the C3 chassis.  Small improvements and modifications were made throughout the duration, but all C2 and C3 chassis are very similar in design.  What may be a lesser known fact is that 1968 to 1979 frames will work for the conversion to a midyear frame. We asked Roger what specifically needed to be modified in order to make a 1975 chassis fit underneath our Split Mod.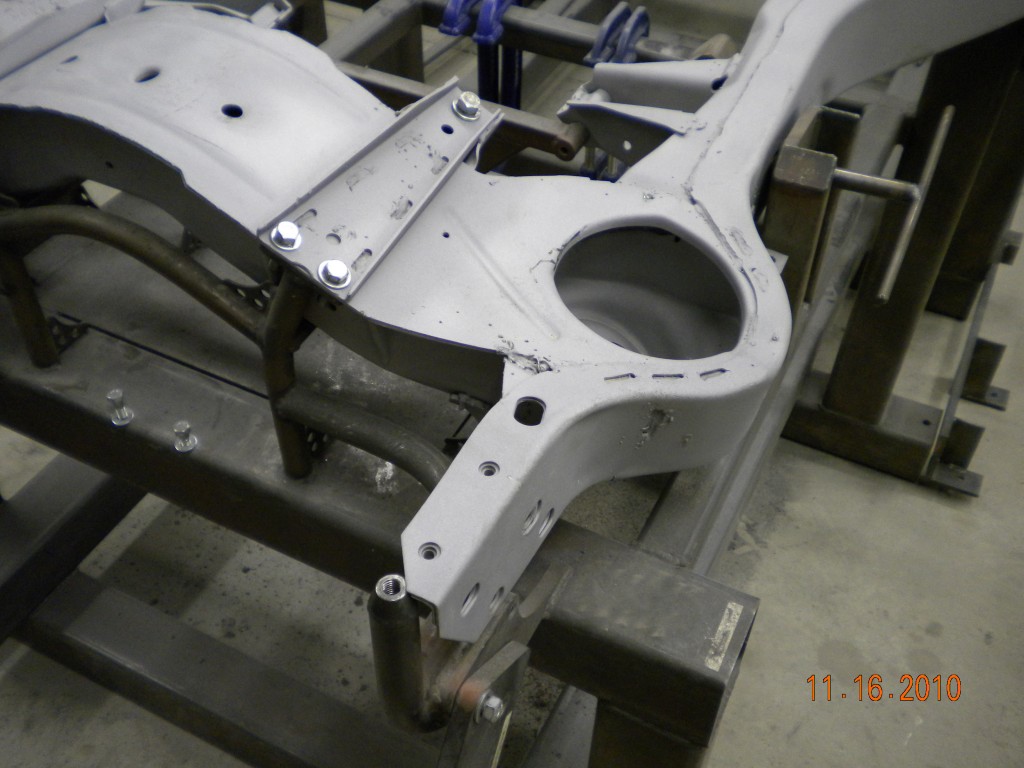 "The front inner and outer frame horns have to be changed, as well as all the body mounts on the frame.   Additionally, we put a new belly pan on because they are always dented".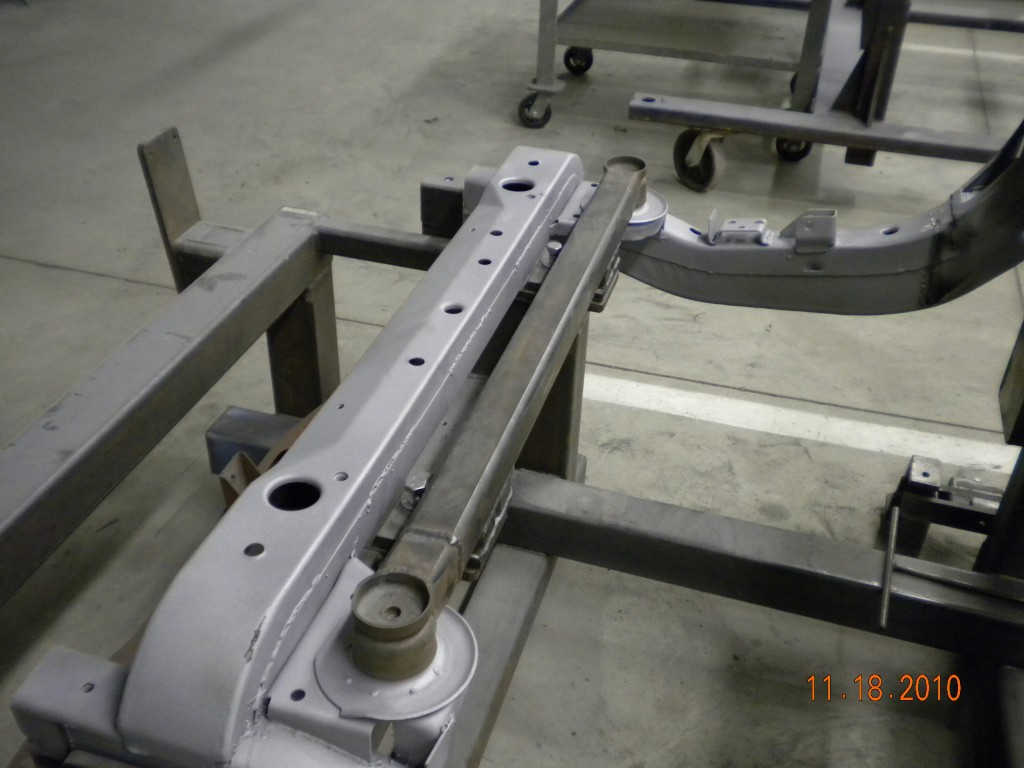 Coincidentally, the part of the '63 chassis that was in the sorriest condition were the rear frame rails.  As it turns out, when executing a C3 into C2 chassis project, per Roger, "the rear frame rails have to be replaced along with the rear crossmember.  Only the rear half of the rear rails has to be sectioned in".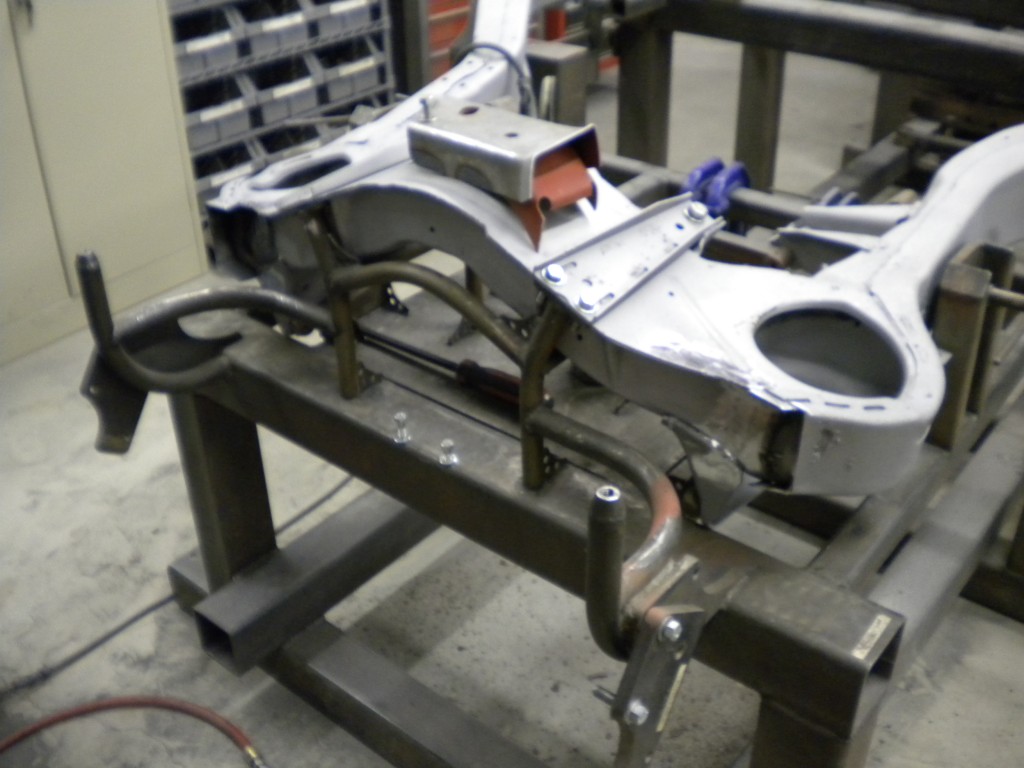 Several other minor considerations are present, including the transmission crossmember.  According to Impact, "the transmission crossmember should be bolted in, not welded in like the original four speed Corvettes.  So we might have to install the brackets for the transmission crossmember", which ultimately was performed for the 1975 chassis in question.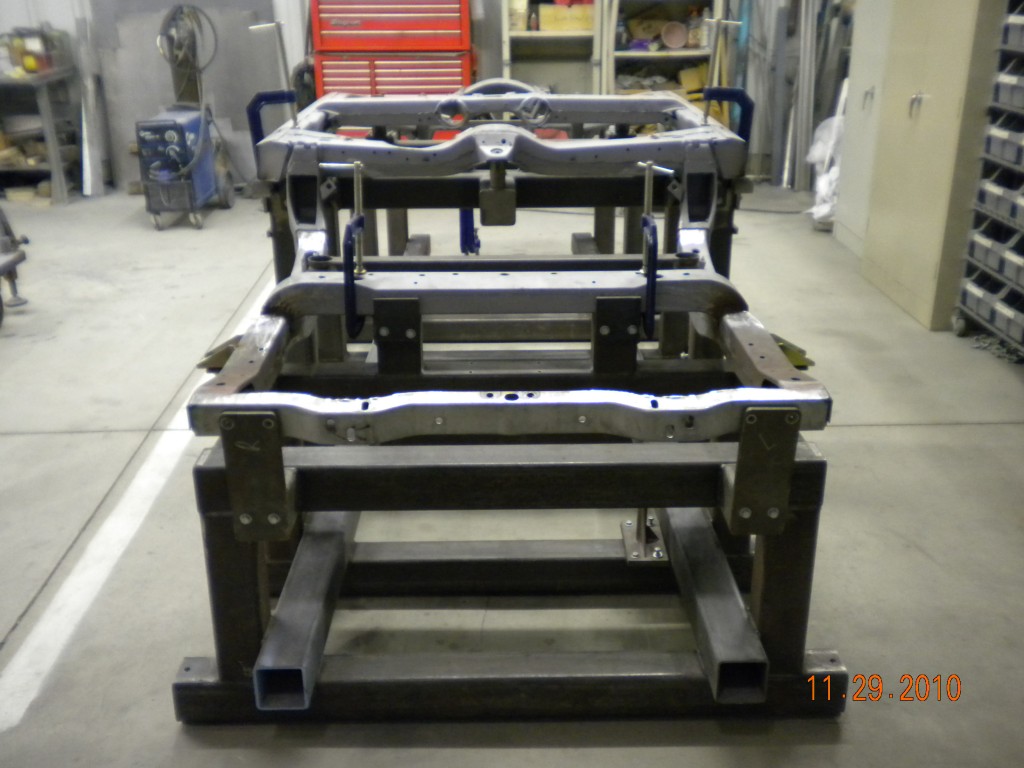 Our 1975 chassis was primed and prepped in Grand Rapids for its long journey to Petris Enterprises' shop in Alabama.  Shipping the chassis was not as daunting of a task as one might assume, due to its relatively light weight and agreeable dimensions.  The chassis was shrink wrapped and shipped via truck freight, and arrived free of damage.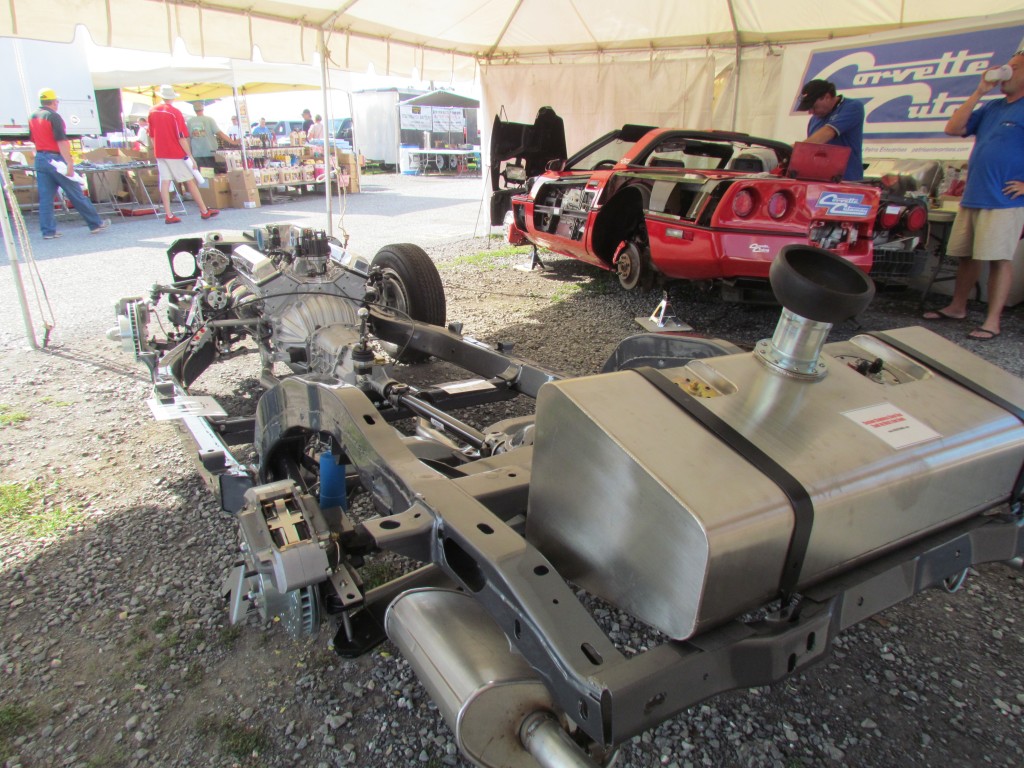 The decision was made to paint the frame to compliment the silver hue that the Split Mod would eventually have.  The end result, a gunmetal tone with clearcoating, will definitely make the specified components stand out, as evidenced by several recent shots taken during Corvettes at Carlisle.
Stay tuned as we continue to detail the restoration and modifications made to our Split Mod.